One of the most desirable features of any Spanish holiday home is an outdoor swimming pool. While back in Blighty we would consider a private pool in your garden as a luxury feature, not so in Spain where a pool is a staple of everyday life and a fantastic facility for everyone to enjoy during the warmer months.
A pool makes total sense in the mild Mediterranean climate. Just imagine lounging on the sun terrace, book and/or cocktail in hand, and cooling off with a dip in the pool whenever the fancy takes you – it's what holidays are made of. If your property doesn't have a pool and you have enough outdoor space to install one, this is one feature that's definitely worth adding, both for your own enjoyment and to increase the value of your property asset.
So, are you ready to take the plunge? Here are 6 of the most popular types of pool that you might consider for your Spanish holiday home.
Above-Ground Pool
An extremely popular choice for holiday villas, above-ground pools are easily installed without the need to excavate – the clue is in the name! With less digging taking some of the hard work out of the setup, particularly on rocky hillside settings, this can be an affordable option.
And if ever you want to reclaim your garden and get rid of the pool, or move it somewhere else, the material and construction of an above-ground pool make this easy too – another huge benefit and potential cost saving.
Above-ground pools don't have to stick out like sore thumbs. By designing the whole area to integrate the architecture of your home with the landscaping of the garden, your pool can be made to look and feel like an integral part of the space. Take a look below to see how well this can work.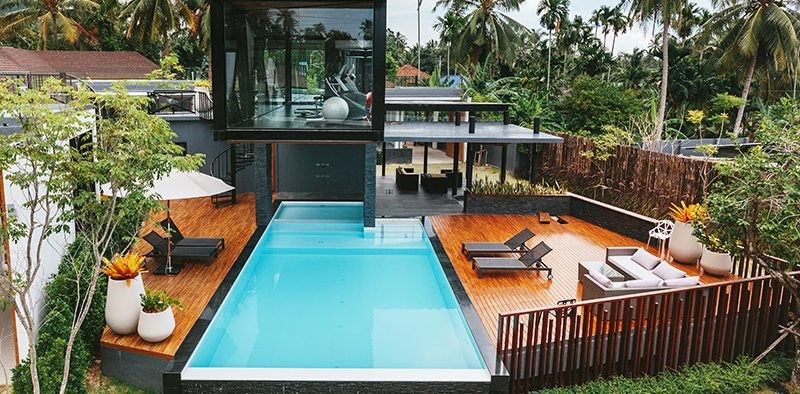 Source: Upscale Living
In-Ground Pool
The alternative to installing an outdoor pool above ground is to choose a design that is built into the ground. You'll need to be totally committed to a permanent garden feature, and the more space you can give to the project – pool, terrace, pool slides, poolside bar etc – the more stunning the result will be.
In-ground pools blend seamlessly into the outdoor setting as part of the terrain, almost as if they belong there. Add Roman pool steps, water features, pool slides, a diving board and other accessories, all embraced by a generous surround and sun deck, and create a luxury outdoor space to relax and have fun in.
Source: ProMas Building
Infinity Pool
For the ultimate luxury and out-of-this-world extravagance, you simply can't beat an infinity pool. These contemporary, bespoke pool designs have one overriding aim: to give the illusion of an endless body of water and do away with the feeling of being in an artificial swimming pool altogether.
Situated in such a way that the edge of the pool visually meets with the sky or the ocean creates a dramatic effect – just take a look at the image below! Infinity pools are not cheap, and you ideally need a hillside property with a spectacular view to do the investment justice.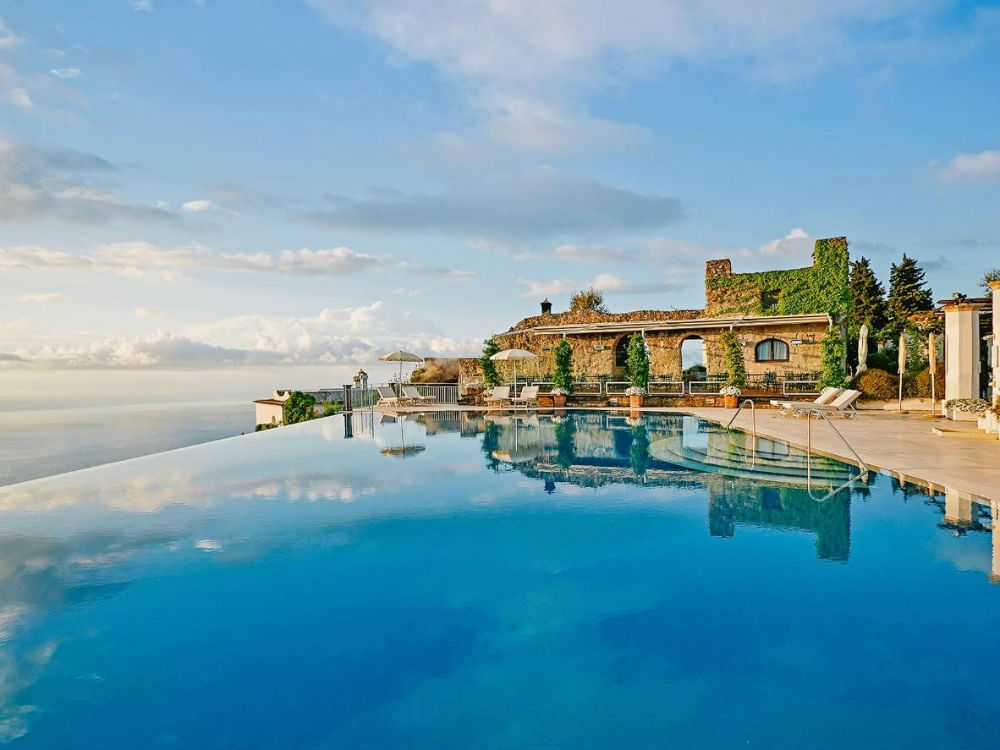 Source: Booking.com
Lap Pool
A lap pool, also known as an exercise pool, combines the 'problem' of limited outdoor space availability with the desire to have a pool for swimming. If fitness is your first focus and your garden is too small for a full-size pool, this could be a great compromise.
All you need is an area with a stable, flat surface to install a lap pool that is more economical but can be just as beautiful, combining style and function to provide your holiday home with a modest space to swim at your leisure.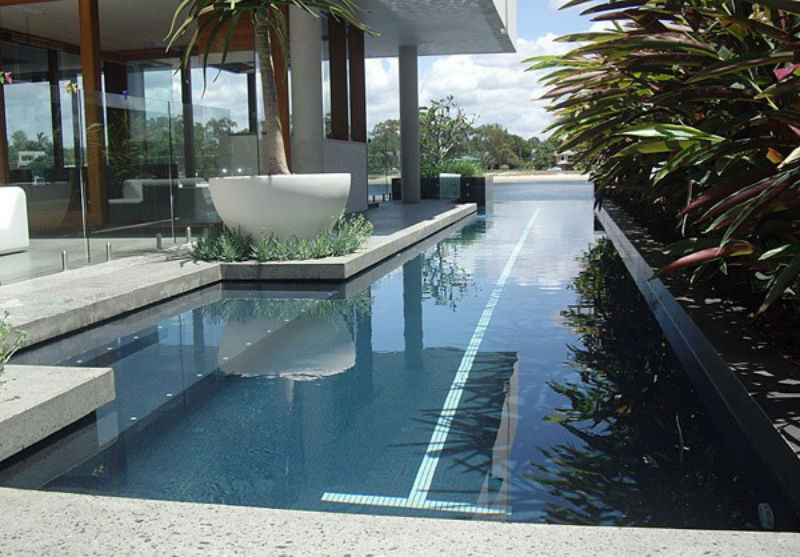 Source: Home Design Lover
Plunge Pool
A plunge pool is small and deep – too small for swimming but ideal for cooling off from the Mediterranean heat. These space-saving installations are easy to look after, cheaper to fill and a more budget-friendly option overall.
If you simply don't have the space for a bigger pool but still want to enjoy an outdoor water feature, why not put a plunge pool onto your sun terrace for a refreshing dip? Upgrade with fountains, jets, waterfalls or a diving board like in the picture below?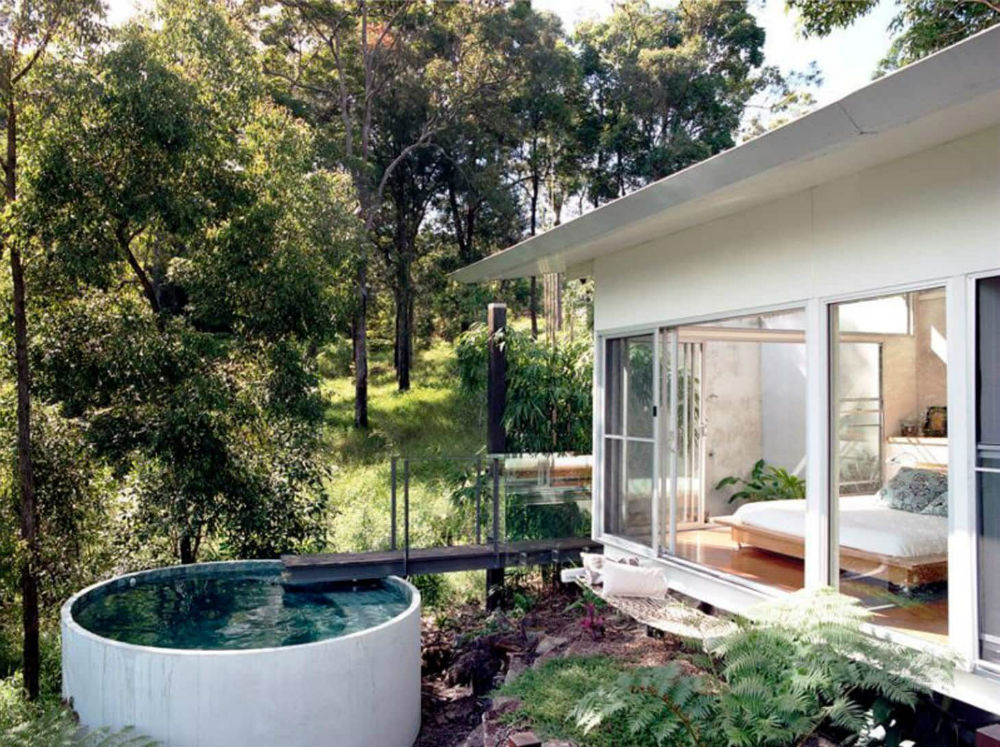 Source: Homely
Hot Tub
If you prefer an indulgent soak to an ice-cold plunge, a hot tub may be just what you need. It's not a full-size pool in the sense that it's too small for swimming, but what you lose in physical space you gain in mental relaxation!#
There are plenty of hot tub styles and designs to suit all types of homes, and you don't need a lot of space to accommodate a hot tub in your garden or on the patio.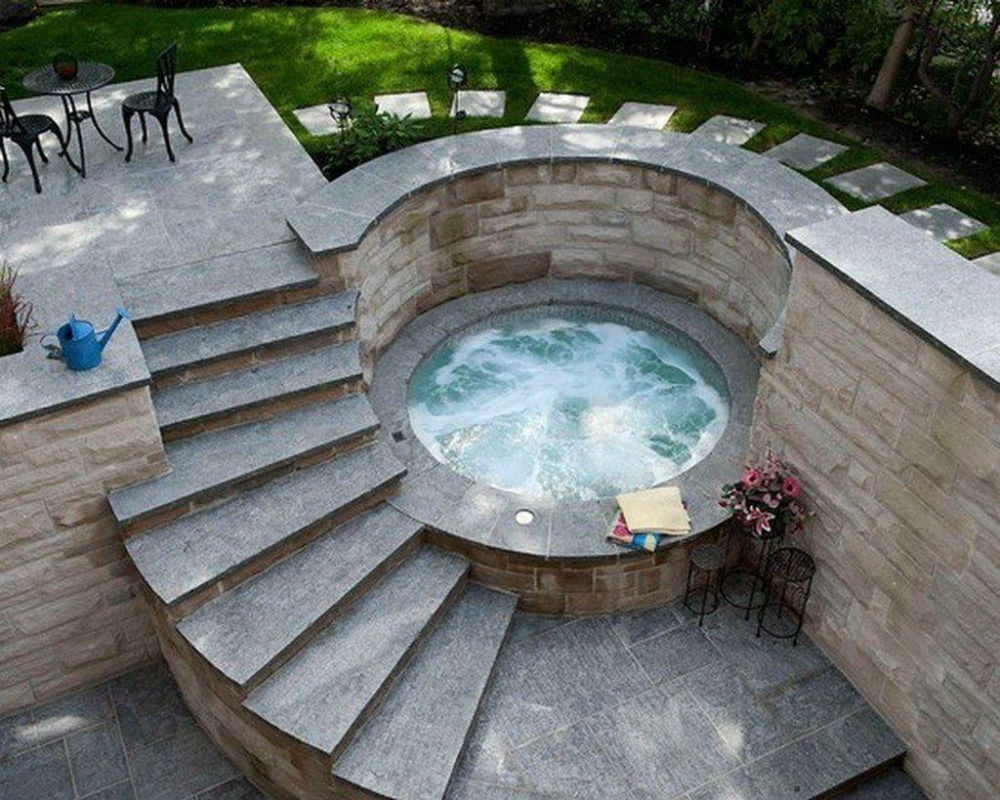 Source: Decoomo