When you live somewhere like good old Blighty, it's not too often that you see the sunshine outside your windows. Anyone that lives in Britain will tell you that, for the most part, rain and the occasional snowy spell dominates our weather.
But when you venture across to a Mediterranean country, like Greece with private tours in Athens, the reverse is true. You will spend most of your time basking in glorious sunshine! If you live in a country like the UK, you might be wondering how to bring that sunshine to your home without moving abroad!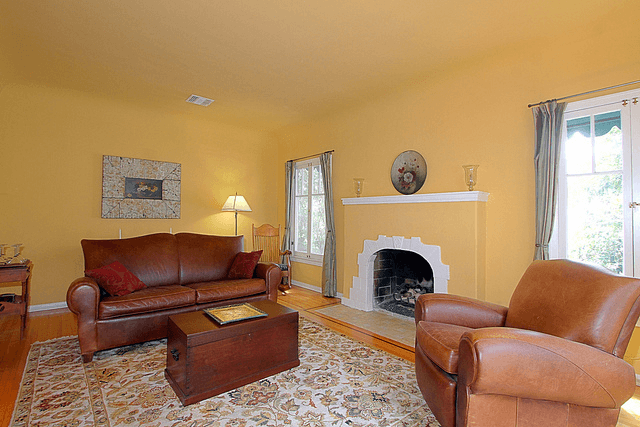 kendylyoung (obtained from Flickr)
Paint your walls with earthy tones
Are your living room walls covered in wallpaper or brilliant white paint? If so, you will doubtless be itching to have a colour change! To create your Mediterranean-inspired living room, the first place to start with are your walls.
I recommend painting your walls with a suitable "earthy" colour. You should choose colours that will stick out, like the ones shown in the photo above. Be sure to use a quality paint product, rather than something cheap and cheerful.
You might think Dulux or Crown paints are the ones to use. But did you know there are plenty of other quality paint makers, such as Farrow and Ball?
Get rid of your carpets
Most homes will have some form of carpet fitted. My advice on this topic is simple: get rid of them. For a perfect Mediterranean look, you should replace your carpets with encaustic cement tiles.
They come in a wide range of colours and patterns. Encaustic cement tiles add the perfect finishing touch to your floor. You might be wondering about how cold they can get during the winter months.
One option is to put a decorative rug in the central part of your living room. But that would be a shame because you wouldn't be able to see those nice cement tiles you had installed! A better option is to get some underfloor heating installed at the same time.
The benefit about doing that is you can get rid of your central heating radiator. Doing so will give you more space; perfect if you have a small living room!
Buy Mediterranean-inspired furniture
Is your living room full of IKEA build-it-yourself furniture? OK, I'm not saying that IKEA furniture is bad. But if you're trying to perfect your living room, modular Swedish furniture just won't cut the mustard.
It's likely that you will need to look further afield, perhaps even buying furniture sold in places like Italy and Greece! Although I'm sure, you will find a seller in the UK that imports such furniture.
And don't be afraid to jump on eBay and have a scout around there too! It might surprise you to learn that you are bound to find some Mediterranean-inspired furniture on there. And at bargain prices too!
The only golden rule you need to bear in mind is not to put too much furniture in your living room. Just get enough for the essentials only. By following these tips, you'll have your Mediterranean-inspired living room all done in no time at all!