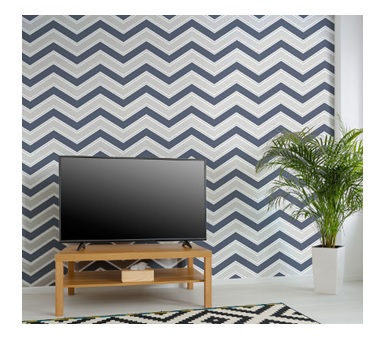 Expert designers at contemporary wallpaper specialist Inspired Wallpaper have predicted the big colour trend for 2017 – inky blue!
As Pantone prepares to unveil its much-anticipated Colour of the Year, the team here firmly believe that this deep, mysterious shade of blue will be all the rage in the coming 12 months.
Christine Westcott, Head of Design at Inspired Wallpaper, explained why indigo will feature prominently in people's interior design projects in the New Year.
"Rich, inky blue colours are very versatile and are a perfect accompaniment to brighter hues such as mustards, corals or copper accents. The tonal tie-dye indigo effect will be hugely popular in 2017, as homeowners look to become more experimental in their colour pairings. Delicate China patterns and bold geometrics are also going to be big next year – blue works wonderfully with both," she commented.
7 ways to update your home
To help you breathe new life into your home in 2017, the team at Inspired Wallpaper have offered seven essential tips for you to follow…
1)    Mix and match your colours
Inky blue can be the focal point of any theme that you choose. Whether you prefer a strong, punchy vibe, or a softer look that uses whites and muted pinks, you'll find that blue complements almost any colour. Let your creative juices flow!
2)    Use wallpaper in unexpected places
It's not just for your walls! You can add a new dimension to your room by applying wallpaper to the back of some shelves or even to each step on a flight of stairs. Customisation will continue to be a big interior design trend in 2017.
3)    Upcycle old wooden furniture
Get some chalk paint and set about revamping some of your old wooden furnishings. This is a cost-effective way of creating quirky furniture that fits in perfectly with your new colour scheme.
4)    Declutter (with some third-party help)
Expert "declutterers" like Marie Kondo will tell you that you should only keep things that you truly love or need. Call in a friend and get a fresh perspective on what you should hold on to and what you should throw. A tidy, streamlined home can really improve your mind-set.
5)    Switch up your accessories as the seasons change
Our moods can change with the seasons and this should be reflected in your home. Whether you introduce a new rug or different pieces of wall art, you can drastically change the look of your room with some clever accessorising.
6)    Streamline your rooms – is everything where it should be?
Too many people simply "make do" when redesigning their homes. How about setting yourself a New Year's resolution to ensure that you're making the absolute most of your space? Sometimes, a simple reshuffle and repositioning of furniture can make a world of difference.
7)    Get those odd jobs done – the fine details matter!
Speaking of New Year's resolutions; it's time to finish off your redecorating projects by getting those little jobs done. From hemming your curtains to realigning those photo frames, the fine details count and you can relax knowing that your room is 100% complete. It'll only niggle you otherwise!