Reality shows, DIY tutorials, home décor TikToks, YouTube, Netflix, everywhere you turn someone's renovating, decorating, painting, buying or selling a home. It's easy to get excited and think of all the DIYs improvement you can do to your spaces.
According to Dulux Decorator Centre, 42%, that's two out of every 5 UK households, agree that home decorating is on their to-do list. So you certainly aren't alone in this endeavour. The good news is that you don't need to DIY décor and renovation when there's professional help at hand.
London painters and decorators bring homes, offices, restaurants, clinics, and other everyday spaces to life. They prime and prepare, choose finishes, apply paint and wallpaper and do whatever else needs to be done. Whether you've got a residential, industrial, or commercial property that needs revamping, or you want expert help for the heritage buildings in your neighbourhood, it's best to trust a professional to get the job done.
Why You Need A Painting And Decorating Company On Your Side
Home renovations increase your home's worth, protect your investment, and add a warm, welcoming charm. But the fact of the matter is that one in every five UK homeowners spends around £100 and £500 on decorating projects, while 18% end up spending £1000. And most of them really don't like the results at the end of the DIY tirade, so that's money down the drain.
Painting and decorating are vital finishing touches for every home renovation project, and it's definitely not a one-person job. A lot can go wrong during home painting and decorating, which is why you need experienced painters and Decorators in London to get the job done timely and efficiently.
Let's explore why these pros are your best bet for successful projects:
They Know What They're Doing
Professional painters and decorators have years of experience, making them experts in their fields. They clearly know how to get the job done quickly without making a mess. Moreover, they know the best places to get hold of affordable and high-quality materials.
But if you plan to DIY, know that the costs quickly add up if you have no idea what you're doing. The chances are that you'll buy several paint testers, hire or purchase decorating and cleaning tools, and make trip after trip to the home improvement store until you know what you're supposed to do. That's a lot of headache and money wasted.
Besides, painting and renovating isn't only about paint, wallpaper, or decorations; you also need to invest in tools that, of course, are quite expensive. And you won't use them for years after, or you might end up selling or renting them out for very little money.
Your friendly neighbourhood painters and decorates have hundreds of similar jobs under their belts. So, they have the experience and expertise needed to complete the project on time and without any fuss.
Moreover, you don't need to worry about their safety because they'll bring the protective headgear, safety boots, goggles, and all else required to ensure that the entire team is safe at all times. And even if there's an untoward accident, they'll have enough insurance coverage for all their team members, so it won't fall on you to pay for their care. This is one of the most significant advantages of working with a reputable paint and décor service.
They Know How To Get Done Within A Deadline
Let's face it. DIY home renovations jobs can last decades if we let them. But if you are working with a professional, your project will get done on time unless there are unforeseen delays or issues. And even then, your contractor will try their best to minimize the delays as much as possible. That's because they have other jobs lined up and can't afford the delays either.
Professionals are used to working on deadlines and within restricted timeframes. So, for example, if you want to paint and decorate the nursery before the baby gets here, let the pros handle it. This way, you'll be able to get the rest and shopping done and have the peace of mind that you've got experts on the job.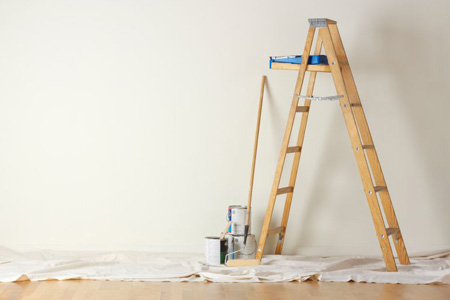 You Don't Need To Worry About The Clean-up
The paint splatters, brushes soaked in spirit, dripping paint tins, and a general feeling of "Oh my God, how am I going to clean this!'' can get to anyone.
But hiring a professional company to paint and renovate your space means that all those things aren't your headache anymore. Their professional painters, technicians, and workers take care of the clean-up. They enter your property, complete the job, and take their tools along with them, leaving your house neat, tidy, and clean.
Now all you need to do is sit back and enjoy your new room.
Final Note
From selecting the right colours to buying equipment and prepping surfaces, DIY home renovation is never smooth sailing. In fact, it is quite a hassle when you factor in all the time, money, blood, sweat, and tears you'll have to devote to get the job done.
Besides, even if you come up with the budget and tools, you might not be able to give due attention to details that matter. The finer details usually get missed, and you end up with a questionable DIY job that has you hoping you never started it.
So, why not sit back, relax and let the professionals do what they do?
When you hire a professional painter and decorator, the results are neat, clean, and exactly how you envisioned them. Moreover, these skilful workers know just how to use their expertise for your benefit.
So, when you feel like upgrading your office spaces, bedrooms, or exterior of your properties, bear in mind that the best way is to hire a painting and decoration company in London.
When you hire a professional painter and decorator, rest assured that you'll get reliable, high-quality services that you can trust. If you have a paint and renovation job on your to-do list, make sure to contact the pros in your locality and get quotes from several of them. Also, explore their services, ask for references, and then shortlist the ones you know you love.