Homeowners looking to achieve the ultimate in sophisticated kitchen design which allows for creative freedom will be inspired by the stunning Stowe from Burbidge which is now in infinite colour options.
Marrying cutting-edge design with timeless appeal, Stowe combines the classical proportions of the iconic shaker style with a flawless, smooth lacquered finish. The result is a look which is simple and clean, exuding a contemporary elegance.
And now, allowing for even more exciting style possibilities, Stowe is available in Burbidge's 25-strong colour painted palette as well as bespoke painted options.
Into the blue
Get in touch with your softer side with this year's trend for power pastels.
Delicate yet distinctive, crisp Cornflower Blue offers a subtle, elegant approach to colour in the kitchen.
Contrast with a core neutral such as Porcelain to create interest and open up the kitchen space.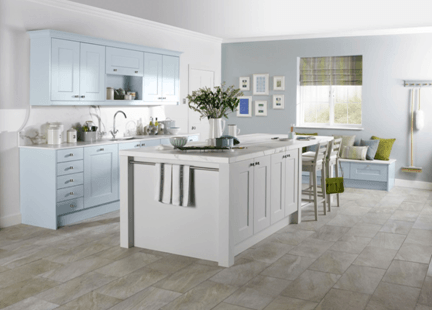 (Stowe, Cornflower Blue & Porcelain)
A brand new slate
Leveraging the dominant trend for all things grey, the unassuming tone of earthy Slate exudes a raw, contemporary appeal. The result is an understated yet enduringly stylish kitchen design guaranteed to add a designer appeal.
(Stowe, Slate with stainless steel accessories)
Glorious gooseberry
Contemporary colour doesn't always have to be bold. The soft hues of Gooseberry bring a calming, serene influence to the kitchen concept while exuding sophistication.
Show in the full kitchen entirety for a real style statement or contrast between wood grains for an au natural feel.
(Stowe, Gooseberry)