What do these three things have in common?  Daniel Craig, Aston Martin and a G Plan Vintage Sixty Two?  They're all British and appeared in a James Bond film.
Wiltshire based furniture manufacturer, G Plan Vintage is the crafter of the most iconic Bond chair; The Sixty Two. Made famous in the 1967 James Bond movie 'You Only Live Twice', Blofeld spins around in a G Plan, The Sixty Two.  With a new Bond movie on the horizon next month, the chair is celebrating being back in business. Re-engineered with the latest materials and techniques to make it suitable for the modern home, each piece is still expertly handcrafted at the G Plan factory in Wiltshire.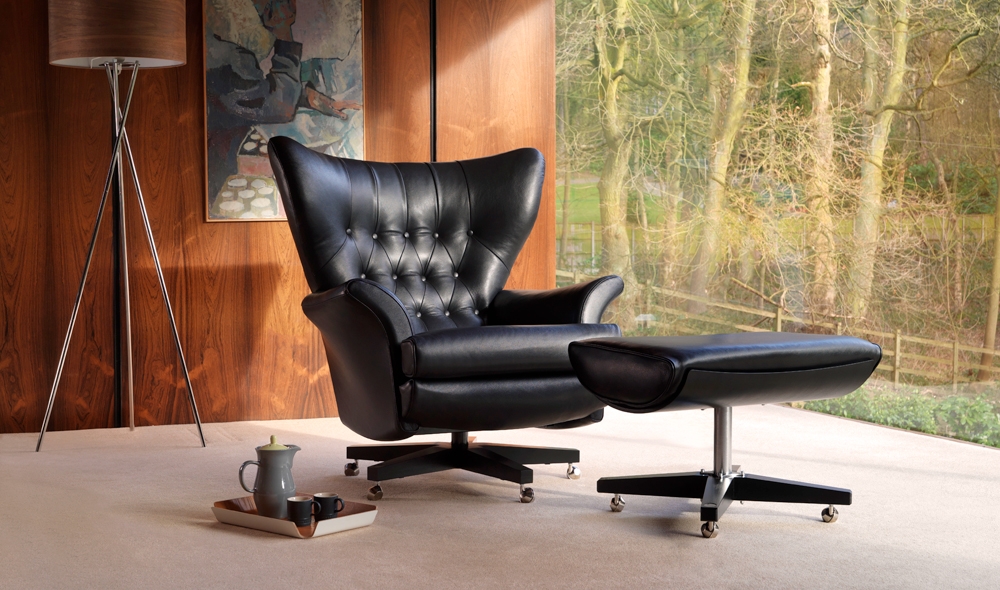 All the chairs are made to order in a choice of 34 beautiful authentic fabrics and 20 luxury leathers. There is a stunning mid-century inspired colour palette to choose from including black, claret, olive, mustard and stone It's also possible to customise the piece with matching or contrasting buttons, to add interest and tailor it to your individual taste and space. With sleek lines and classic colours, it's furniture that truly stands the test of time.
With its strong heritage in handcrafting beautiful upholstery, G Plan Vintagerelaunched its iconic armchair, known as "The World's Most Comfortable Chair", in 2013. 'The Sixty Two' chair now celebrates its 2nd birthday with a special promotion.  G Plan is offering The Sixty Two at RRP £1657 for the leather chair and RRP £570 for the leather footstool or RRP £1404 for the fabric chair and RRP £505 for the fabric footstool.
The Sixty Two model is available in 48 independent stockists throughout the UK. Details can be found on the website http://www.gplanvintage.co.uk/your-nearest-stockist/.
G Plan has been handcrafting beautiful upholstery since 1898, combining traditional craftsmanship with classic design
The G Plan brand was created in 1953 and has gone on to create some of the most iconic furniture of the 20th century
G Plan Vintage was launched in 2012, a collection inspired by original pieces from the G Plan archive. It brings together sleek lines and classic colours, its furniture truly stands the test of time
The Sixty Two has been re-engineered for today's standards using the very latest techniques to achieve this high quality, stylish product.
Follow G Plan Upholstery on:
Facebook: https://www.facebook.com/GPlanUpholstery
Twitter: https://twitter.com/GPlanUpholstery
Pinterest: https://www.pinterest.com/gplan/
Instagram: https//instagram.com/gplanupholstery/