With over half of 2016 done and dusted, we've seen our fair share of kitchen designs and trends that have caught our eye – especially in the category of the rural kitchen.
There's still time if you're interested in giving your kitchen a 2016 rural boost! We've gathered together a list of top tips of creating a 2016 country kitchen, with the help of quality kitchen experts DM Design.
Wooden flooring
Hardwood floors are a key feature of a country kitchen, and one of the first and key things that will make your kitchen feel rustic and rural. If your space is large enough, or you have an open kitchen-diner, try adding a Persian or woven rug on the floor too.
Elements of industry
A great way to achieve the rustic country style is through the addition of industrial elements in the fixtures and fittings – it's very 2016 too. Giving the impression that you're using found objects that have been around for a long time, they're a fantastic way to add edge to an overall soft look. Try industrial-style lamp shades, bar stools, tables and chairs, or display copper.
Keep it pastel
Although you want your rural-style kitchen to be cosy, pastel shades instantly set the scene for a country kitchen. Therefore, sticking to this colour palette for the walls is a great place to start. If your space is smaller, picking a crisp white will make a great impression. However, if you want to add a splash of colour, pastel peaches, creams, blues are also commonplace. Another way to switch it up is to paint cupboard fronts or other furniture a pastel colour.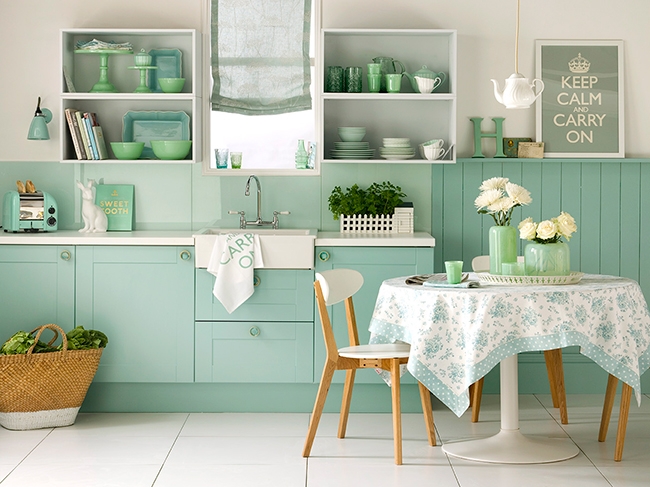 Exposed brick
For an older property, taking advantage of exposed brick will really give you a rustic feel. If you don't want to embrace the full brick wall – or don't have the budget to do so – there are plenty of other ways you can introduce exposed brick into your kitchen. Try a brick splashback, open pipe shelving or a brick pantry nook to give the same impression.