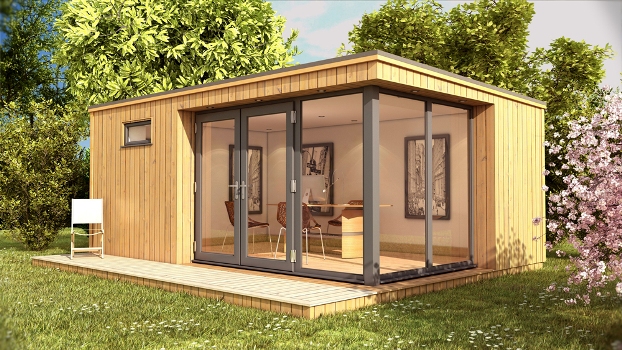 As the popularity of working from home continues, so does the need for a separate working environment away from the hustle and bustle of the main house. Garden rooms have been filling this niche for some time, but now these truly habitable spaces are becoming a popular choice for home owners who want to extend their living space for a multitude of uses including hobby rooms, home studios or even relaxing areas to unwind in their spare time.
Why are garden rooms so popular and what are the benefits of owning one? Here garden room specialists Oeco Garden Rooms talk us through some of the advantages of choosing a garden room instead of the traditional house extension or loft conversion when adding space to your property.
Why choose a garden room?
More space – Garden rooms create additional space without taking up any more room within the home or having to build a lengthy and expensive extension.
Multiple uses – A garden room can be used for a multitude of things including as an office, hobby or games room, music studio or just a place to relax and unwind away from the distractions of the main house.
No planning permission – In the majority of cases, garden rooms do not need planning permission to be built, but it is always important to check with your local authority before starting work.
Minimal ground work needed – Specially designed concrete pads and heavy duty steel feet mean that a garden room can be installed just about anywhere in the garden with a minimal amount of ground work, saving money and time during the project.
Bespoke customisation – A garden room can be customised to your specific needs and come complete with a comprehensive electrics package and lighting as standard. Some of the customised options include installing sound proofing, adding additional internal walls and doors, or fitting a toilet, sink or shower into the room. You can even choose where external windows and doors are located.
Cheaper than the alternatives – Garden rooms can be a lot cheaper than an extension or loft conversion, and because it is situated in the garden, the disruption to the main home is greatly reduced.
Quick to build – Even with a range of optional extras, garden rooms can be built in a matter of days compared to loft extensions and conservatories which can take weeks to complete.
Use all year round – Superior insulation means that the garden room can be used all year round, staying warm in the winter and cool during the summer months.
On-site installation – Due to the modular nature on garden rooms they can be installed just about anywhere without the need for specialised machinery. Garden rooms can also be installed in areas with limited access as all of the building components will fit through a standard door frame.
Garden rooms are a great choice for those who want to add more living space to their property without the hassle of having to get planning permission and the expense and disruption of building an extension or loft conversion.
http://www.oecogardenrooms.co.uk/