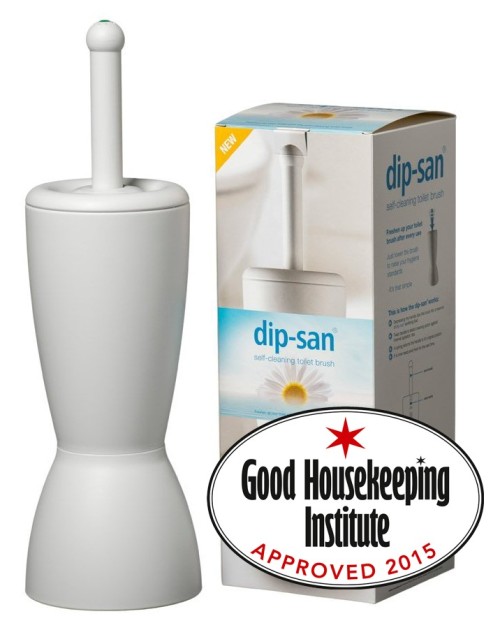 Your toilet might be spotless but what about your toilet brush? A perfect place to harbour bacteria, odour and unsightly dirt with conventional brushes but now Charles Bentley & Son is bringing a new level of hygiene to your bathroom with Dip-San, the new hygienic toilet brush.
Manufactured in the UK the highest standards, the EU & US patented Dip-San is the only self-cleaning toilet brush on the market.
Approved by the Good Housekeeping Institute after undergoing rigorous testing, Dip-San promises a hygienic alternative to the traditional toilet brush thanks to the reservoir of cleaning fluid contained within its holder.
By cleaning the brush after each use, this fluid helps to improve the hygiene levels of this well-designed and hard wearing toilet brush.
How it works
Dip-San is easy to use. Simply return the brush to its holder after use and depress the handle to dip the brush head into the reservoir of Dip-San Cleaning Fluid. To further assist the cleaning process, twist the brush handle while in the dip position, as this will cause the brush head bristles to agitate against the internal ribs in the reservoir. The brush will return to its original position thanks to the internal spring loaded action.
To replace the Dip-San Cleaning Fluid, remove brush, flush away used solution and fill reservoir with water to the top of the internal agitation ribs. Just add 20ml Dip-San Cleaning Fluid, replace the brush and it is ready for use – simple!
Available products
The Dip-San Hygienic Toilet Brush promises to keep both toilet and brush clean after use thanks to the easy depress and dip design. A hygienic alternative to traditional brushes, Dip-San is made from polypropylene, which promises durability and longevity, and comes with a Lifetime Guarantee (conditions apply). Priced at £21.25.
Ideal for homes with multiple bathrooms, the Dip-San Portable Toilet Brush is a practical cleaning tool that ensures optimum hygiene for both at home and away from home toilets alike.  This pack contains one portable Dip-San brush with carry handle, a replacement brush head and two 250ml bottles of Dip-San cleaning fluid, and comes with a Lifetime Guarantee. Priced at £21.25.
This Dip-San Cleaning Fluid pack contains four 250ml bottles of concentrated solution for use with the Dip-San Hygienic Toilet Brush. Each bottle contains 12 doses of environmentally friendly herbal scented cleaning fluid. Priced at £13.60.
The Dip-San Brush Pack contains two replacement Dip-San brush heads, with bristles made from quality nylon, which resists flattening. The result is a hard wearing brush head that promises high quality toilet cleaning time after time. Priced at £5.10.
Alternatively, for more information please visit www.bentleybrushware.co.uk or call 01509 232757.