The quality of your mattress is often overlooked when weighing up the reasons why you might be sleeping badly. Without a supportive base, your body will be out of alignment resulting in both a lack of deep sleep and achy joints in the morning.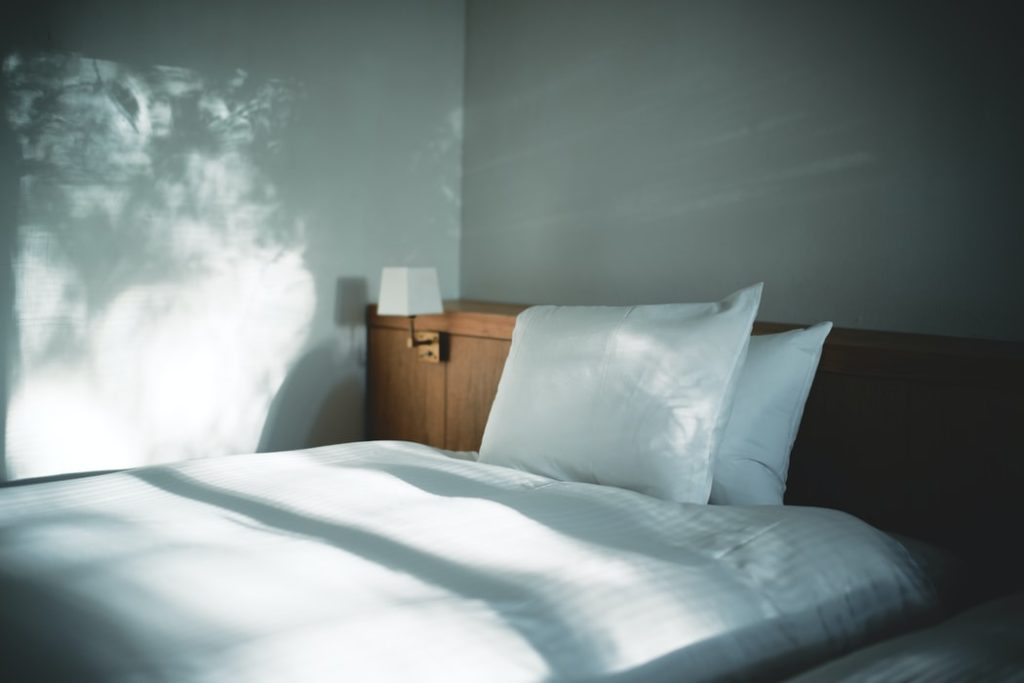 To help you find the right mattress for your home, here's a handy mattress buying guide outlining the key factors to consider when researching and investing in a new mattress.
Size
First up, you need to get the size of your mattress right. If your mattress doesn't fit properly and securely into your bed frame, it will end up moving around and potentially becoming deformed due to your bed's shape.
The most common mattress sizes in the UK are:
Single – W90, L190cm
Double – W135, L190cm
King size – W150, L200cm
Superking – W180, L200cm
Before you start researching your mattress options, having the mattress size and measurements in mind is key. Simba Sleep offers their bed-in-a-box option in a wide range of sizes to suit all beds, whether you need a single mattress for a smaller room or plan to treat yourself to a super-king to make room for all the kids and pets when they invade in the morning.
Firmness
Once you're set on the size of mattress you need, you should think about how firm you want it to be. You can use previous sleeping experiences to decide on a mattress that you felt worked for you. There are several factors that can influence how firm you need your mattress to be – bodyweight, sleeping position, joint pains or sore areas, and more.
Bodyweight and sleeping position is the main determiners of how firm you need your mattress to be. For example, heavier people (over sixteen stone) will need a firmer mattress to support the weight, whereas lighter people below eight stone will be more suited to a soft mattress.
Think about which position you usually sleep in too. Side sleepers will need softer mattresses to allow their shoulders to sink into the mattress and avoid pressure on the joints or pressure points, for example. Whereas people who sleep on their back will need a firmer but still supportive mattress to provide a stable rest for the lower back and keep your body in alignment.
Simba Sleep mattresses are designed to be completely universal, suited to people with all kinds of sleeping positions. The five-layer mattress works by providing cool, supportive, and comfortable technology to support sleepers of all sizes and types.
Comfort
It was once common for the surface of a mattress to be tufted, with tags or buttons securing the mattress down and causing small dips at regular intervals. Nowadays, mattresses are more commonly designed to be flat, lightly quilted or pillowtop to minimise the dips or tufts in the surface of the mattress and provide optimum comfort.
To further improve the comfort of the surface of your mattress, you can add mattress toppers that are designed to add extra support and softness.
Care
To complete this mattress buying guide, when weighing up your options, think about how long you want it to last you too. Some types of mattresses will last a lot longer than others, with memory foam mattresses being the longest-lasting at around seven to ten years. Always check out the guarantee on your potential mattress to make sure you are covered if your mattress deteriorates quicker than expected. Simba Sleep mattresses come with a reliable ten-year guarantee so, should your mattress let you down, they will simply swap it for a brand new one with minimal hassle.
Once you've gained an understanding of the type, size, firmness and comfort levels that you want your mattress to provide, you can start shopping around either online or heading into a store.