Skip to content
"Mind. Body. Spirit. Home. It's all connected."
How to Make Your Home More Disability Friendly
Your home is more than just a house — it's your sanctuary to relax, unwind and to feel completely at ease. While beautiful furnishings and colour schemes are a lot of fun to work with, it's important to provide practical comfort for every member of the family — particularly those with a disability.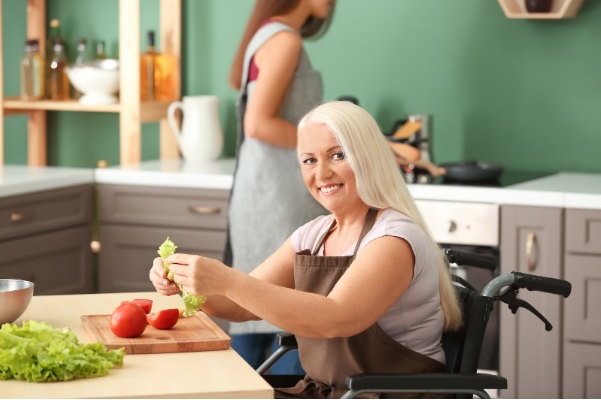 Disabilities come in all shapes and forms, from mental and physical impairment to various learning difficulties, each with a wide spectrum of different challenges around the home. While one task may appear simple to one person, it can take a whole lot of extra energy and time for another.
However, as My Unique Home says, "Getting the small things in life right makes a big difference when it comes to living well" and Bayliss Mobility offers a fantastic range of mobility and disability aids to make daily life that little bit simpler.
Of course, there are many different aids for various needs, so whether you want to retain independent living yourself or if you're looking for ways to assist somebody else, keep in mind how each tool can offer greater mobility and safety. "Live-In Care is receiving 24-hour care at home". – says a spokesman for Live-In Carers Direct.
Bedroom Aids
As the bedroom is where we start our day, it's essential to wake up feeling confident. For those who need a little help getting in and out of bed, a grab rail or standing aid can assist with standing up, positioning and transfers. They're height adjustable and can be useful for those who transfer directly from a wheelchair to the bed.
Kitchen Aids
Where physical abilities allow, everyone should be able to prepare and cook food, as well as make a hot drink. These daily tasks are a huge contributor to your quality of life and there are so many quality products to help. If you need to open bottles, there's an adapted multi-use bottle and can opener. If you are visually impaired, then the level liquid indicator can help you safely pour hot water for that perfect cup of tea. If handling items with your hands is difficult, experiment with plate guards, angled cutlery and two handled mugs to find what works best.
A food workstation is excellent for those with a weak grip or poor motor skills. You can cut, peel, slice, grate and spread safely as the board is held firmly in place by non-slip suction cups that prevent the workstation from moving.
Bathroom Aids
The bathroom can be an area for accidents at any time, but especially if much-needed bath aids are not available. Aids can help when using the shower, toilet and the bath to stop any potential injuries. A shower seat with a backrest is particularly useful as they often have handles, rubber feet and drain holes to allow easy and safe transfers. A safety bar next to the bath is also recommended for anyone facing mobility challenges.
Reading and Writing Aids
Many of us enjoy reading, writing and craftwork in our spare time, to unwind and to get lost in a pool of creativity. There are plenty of great aids out there to make these activities easier, including a hands-free magnifier, pen grips and over bed tables — perfect for those who enjoy needlework and embroidery. This allows for both hands to be free so you can turn the page or complete your delicate work.
Learning more about some of the difficulties of living at home with a disability gives you the opportunity to look at how daily tasks can be adjusted or adapted so that everyone can enjoy their home with confidence. If you have a disability and need to make changes to your home, you could be eligible for a Disabled Facilities Grant.