There's a reason the kitchen is called the heart of the home: It's where you and your family gather to cook, to eat, to socialize, and, sometimes, just to catch up over a quick snack or a cup of coffee. In many homes, the kitchen has evolved into an all-purpose room, including a dining table, computer desk, entertainment area, even a fireplace.
Today's kitchens are practical, welcoming, and fun. They feature sophisticated colors and innovative components. They also look more like the rest of the house, complete with furniture-like cabinets, wood flooring, and artwork. The perfect recipe for a beautiful kitchen calls for giving a lot of thought to both the components and the activities that take place in the room, from cooking and cleanup to snacking and socializing. Above all, the perfect kitchen is both comfortable and a pleasure to work in. Here are ten simple elements to consider for your well-planned kitchen.
Style
The design of your kitchen may be classic or contemporary, casual or formal, high-tech or homey—whatever reflects your style preference. Because the cabinets, countertops, and appliances comprise the major components in a kitchen space, you'll want to decide what your overall style will be before choosing them. If you're worried about combining looks with practicality, many designs strive to blend traditional looks with modern conveniences. A generously proportioned kitchen with classic materials and up-to-date amenities proves to be both stylish and practical.
Layout
Kitchen layout studies in the 1950s introduced the term work triangle, whose three legs connect the refrigerator, sink, and range or cooktop. An efficient work triangle reduces the steps a cook must take during meal preparation and, whenever possible, is not interrupted by traffic flow. Today, the work triangle is being challenged by other options; nevertheless, it is still a valuable starting point for good kitchen design. If your space is small, you might want to consider a one wall kitchen or a galley kitchen. Gaining in popularity are minimalist kitchens, in which obvious kitchen elements such as the refrigerator and upper cabinets are downplayed or tucked out of sight and the kitchen area has the same sensibility as the living space it has merged with. Deluxe kitchens are expansive spaces that often have two or more work zones.
Cabinets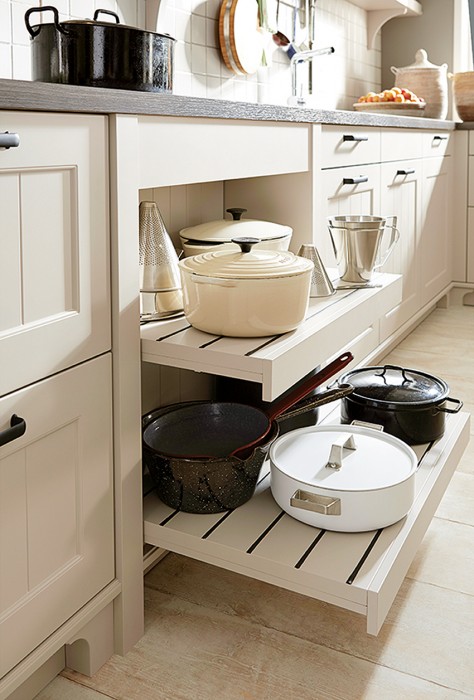 Your first decision is whether to keep your existing cabinets, perhaps refinishing or refacing them, or to replace them. If you replace them, you will need to decide if you want "fitted" or "unfitted"cabinets. A fitted kitchen, the almost universal choice since the mid-20th century, consists of banks of matching upper and lower cabinets with appliances incorporated into them. "Unfitted" kitchens generally have a mix of styles and colors. The cabinets are more furniture-like. Upper cabinets may float singly on the wall or may sit on the countertop like a hutch; shelves may take the place of cabinets. Other decisions include cabinet construction and style and whether you want stock, semi-custom, or custom cabinetry. You'll also want to decide on the materials and finishes. You can always mix things up, choosing different materials and complementary ones, to bring personal style to your kitchen.
Countertops
These are the workhorses of the kitchen and need to stand up to a lot of wear and tear. Beyond each surface's aesthetic appeal, you want to weigh its physical characteristics. You want a countertop that is water resistant, durable, and easy to maintain. Before deciding, consider how you will use the countertops. Do you want durable surfaces for chopping or placing hot pans? Do you mind sealing surfaces? Will blemishes bother you or do you need a surface that won't show fingerprints and water spots? Regardless, a solid surface versus a tiled version is always easier to maintain.
Backsplashes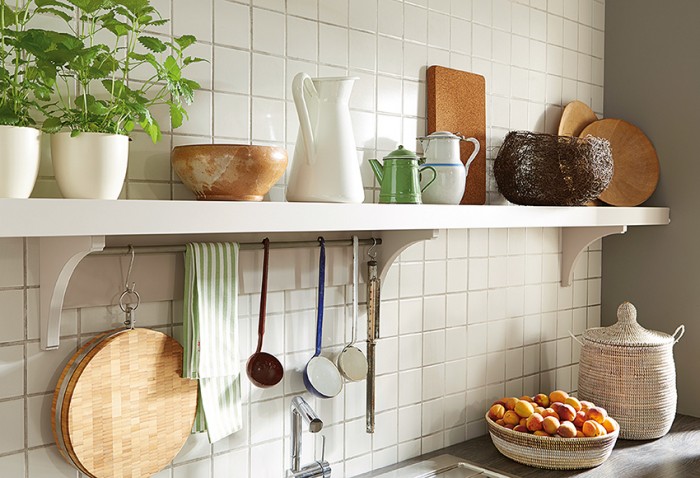 Backsplashes are another consideration. The most basic backsplash is a simple curb a few inches tall that is either part of the countertop or a separate strip of material. A more common backsplash runs from the countertop to the bottom of the upper cabinets or windows. Full-wall backsplashes run from the countertop to the ceiling. Backsplashes can either match the countertop material or contrast with it. Ceramic tile has long been the most popular choice, but well-sealed wood, stainless steel, glass tile, mosaics, and stone are becoming more common.
Appliances
These include the standard refrigerator, stove, and dishwasher; you may also want to look at cooktops, combination ovens, wine coolers, warming doors, streamers, deep-fryers and much more. The trick is to figure out just what you need.
Flooring
Every kitchen deserves a floor that is beautiful. But in addition to being beautiful, a kitchen floor needs to be comfortable underfoot, watertight, slip resistant, hard to damage, and easy to clean. Fortunately, many choices are available that fulfill these requirements and fit your kitchen style. Flooring needs to work well with the other design elements in your room. Options include vinyl, linoleum, wood, stone, ceramic tile, laminate flooring, cork, bamboo, and concrete.
Lighting
A kitchen may be efficient and good looking, but, with poor lighting, it will be an unpleasant and tiring place to work. You need shadow-less illumination for the entire room as well as bright light for specific tasks. Built-in uplights over the cabinets can provide ambient light; those under the cabinets can provide needed task lighting. With multiple sources and dimmer controls, you can have bright light for working and soft light for atmosphere. While kitchen lighting has traditionally consisted of ceiling lights or recessed fixtures, pendant lamps and chandeliers are increasingly popular. Depending on the size of your space, you may want a mix of fixtures.
Storage and Display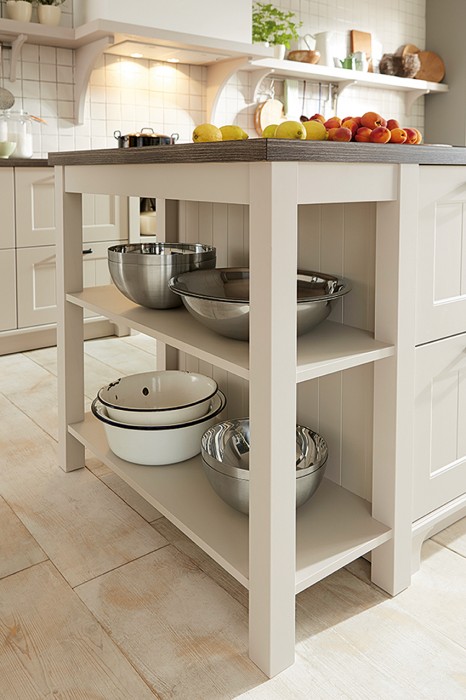 The cabinet is the old standby for kitchen storage, but other options abound. Hutches and armoires are making a comeback in kitchens, as are islands, carts, racks, and shelves. Pantries are making a comeback too. Food pantries, whether walk-in rooms or simply a wall cabinet or closet, are ideal for canned goods and paper products as well as less frequently used small appliances. Open storage is also becoming popular, and works well in both traditional farmhouse kitchens and contemporary styles. Open storage options include built-in shelving, open shelves, plate and pot racks, wine and spice racks, tables, and carts. Closed storage options, which keep kitchens from looking overly crowded or messy, include appliance garages, drawers, and pullouts. Freestanding furniture may offer either open or closed storage, or a combination of the two.
Finishing Touches
Once you determine the main elements of the kitchen, it's time to think of the finishing touches. These include window styles and treatments, wall treatments, seating, and decorative accents. The windows in your kitchen should match the style of the space, whether they're multi-paneled traditional windows or single-paneled contemporary styles. In either case, look for windows that are energy efficient. When it comes to window coverings in kitchens, less is often better than more. Because kitchens often don't need to provide the privacy that other rooms do, you can even go without window treatments all together.