Downsizing was once the sanction of empty nester's approaching retirement or, when a large family home was no longer required due to their children growing up and leaving home however, downsizing your home is now considered to be a smart option for a wide segment of home makers. In its simplest terms downsizing is where you move from a larger home to a smaller one; however, it's fair to say there's much more to it than this and it can be quite a tricky process without the right guidance. In this post you can find some helpful tips and advice to make your move more straightforward.
Why Downsize?
Before we discuss our top tips here's some of the reasons and benefits you can get from downsizing.
One simple reason is you might no longer have any need for the space, say your children have grown up and moved out. Another is for financial reasons, as you might want to be mortgage free and be looking for a quick sale. Also, a smaller house can be easier to manage, which is certainly a benefit – especially if you feel you can no longer maintain the property.
What to do
When you've found the right house and the move has been made official, you need to do the following to ensure you won't be moving into your new home with too many belongings:
Set yourself targets
From the very beginning you should set yourself time frame targets for each room in your home. Start with the biggest and most cluttered rooms and spaces (such as the garage and the loft) then set daily or weekly goals for getting them cleared.
Assess your needs
With the above you also need to fully understand your needs. Look at the floor space of where you're moving to and also think about how much you realistically need to take with you. For instance if your moving from a three bedroomed property to a one bedded you won't require the extra beds, pillows mattresses etc. Go through every room kitchen, garage, bedrooms etc. these are rooms full of clutter you can live without. The latter is especially important if the number of people in your household is going to be significantly less.
Be ruthless with your belongings
Naturally, you don't want to get rid of all your sentimental goods but you need to be ruthless when having a clear out. Ask yourself if you really need to keep certain items, that you know will only clutter or that will preoccupy space you no longer have but, be practical at the same time with things that will take up the most room like additional chairs, white goods and beds. Create a list of must haves, can live without and things I can replace. This doesn't guarantee you will completely get rid of these items only, but it means if space becomes an issue then you have a list of belongings you can get rid of.
Sell or donate your belongings
If some of the goods you intend to throw out are still of a decent quality, (Refer to you're can live without list) then donate or, set up or register with an online selling platform or host a garage sale and get a bit of money for your old belongings. Any extra cash in your pocket during a house move is certainly going to be a benefit!
Finally once you have established and settled on the type of property you are downsizing to draw up a realistic room plan so, you see what and how this will fit in each room ensuring there is enough space and not too much clutter.
With all this in mind then, follow this advice and soon all there'll be left to do is get yourself sorted and moved into your new home.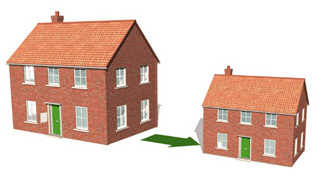 Image courtesy of Shutterstock