With many of us spending more time at home than ever before, it is easy to look around the most outdated areas of our homes and wonder how we could have neglected them for so long. Kitchens, in particular, are often overlooked since renovating them is considered to be an extremely time-consuming and overly expensive task, requiring lots of preparation and waiting around. However, this doesn't have to be the case.
See below for some of the best ways to make your outdated kitchen feel trendy and brand new without breaking the bank, whether you're looking to make big changes or small adjustments.
Kitchen splashback
Looking to complete your own upgrades to cut down on kitchen renovating costs? A kitchen splashback is a great alternative to the difficult task of replacing old tiles whilst also giving a much more modern and stylish look. Not to mention, splashbacks are much easier to keep clean, protecting your walls from dreaded spillages and stains.
One of the easiest materials to use for this project are made to measure acrylic sheets which are extremely simple to install and immune to any knocks or drops during the process. On top of this, there are many finishes and tones to choose from, allowing you a great deal of freedom in creating your own personalised space.
Whether you decide to go for a matt, dark-hued splashback to suit a modern, minimalist kitchen, or you're looking to make a small space appear larger by opting for one with a mirrored finish, the wide range of options available means you don't have to make compromises when it comes to practicality.
Refresh your cabinets
Replacing kitchen cabinets, shelves and drawers can be one of the most expensive jobs when it comes to kitchen renovations. However, if it's simply the colour or texture you're unhappy with, this can be easily resolved by giving them a coat of paint, or by opting for replacement kitchen doors and drawer fronts.
Neutral colours for kitchen cabinets, such as taupe and grey, have overtaken the wooden trend in recent years as individuals opt for a more minimalist, sleek style. If your kitchen gets little to no natural light, deeper coloured cabinets, such as a dark green or black, can make the space feel cosy and warm. Contrast this with light coloured walls, surfaces and accessories for the ultimate on-trend space. For extra style points, add brass or leather cabinet handles for a luxurious feel.
If you decide to paint your cabinets, it is important to do your research regarding the best type of paint to use as well as the tools you will need to ensure a smooth and professional-looking finish. Semigloss, gloss or satin latex paints are the best options for easily painting kitchen cabinets whilst matte paints are sure to chip and can be very difficult to clean.
It is also important to make sure you have prepped the cabinets beforehand by cleaning and sanding them in order to create a smooth, dust-free surface. After taking these steps, it is also advisable to use a paint primer, on both wooden and laminate surfaces, in order to help the new paint colour stick as well as avoid any knots in wooden surfaces showing through a few months down the line.
Small but important features
If your kitchen doesn't need a total revamp but is feeling a bit lacklustre, giving it a new lease of life can be as easy as replacing a few details such as the light fixtures or even just replacing the towels. Introducing new features and colours into your space requires minimal effort but can help to create a strong visual impact.
If you're sticking to the neutral trend but would like to add some character to your space, try bringing in some pops of colour by investing in plants for your countertops or simple but colourful art prints for a bare wall. A statement appliance, such as a boldly coloured fridge or kettle, is also an easy way of adding personality to your space and can also help draw the eye away from any unsightly elements of your kitchen you'd like to divert attention from.
The right kind of storage
Whether your kitchen is small or large, keeping things clean and tidy is one of the best ways to quickly and easily give your space a refresh. Not only can clutter make your space feel smaller, but it can also have negative effects on mood.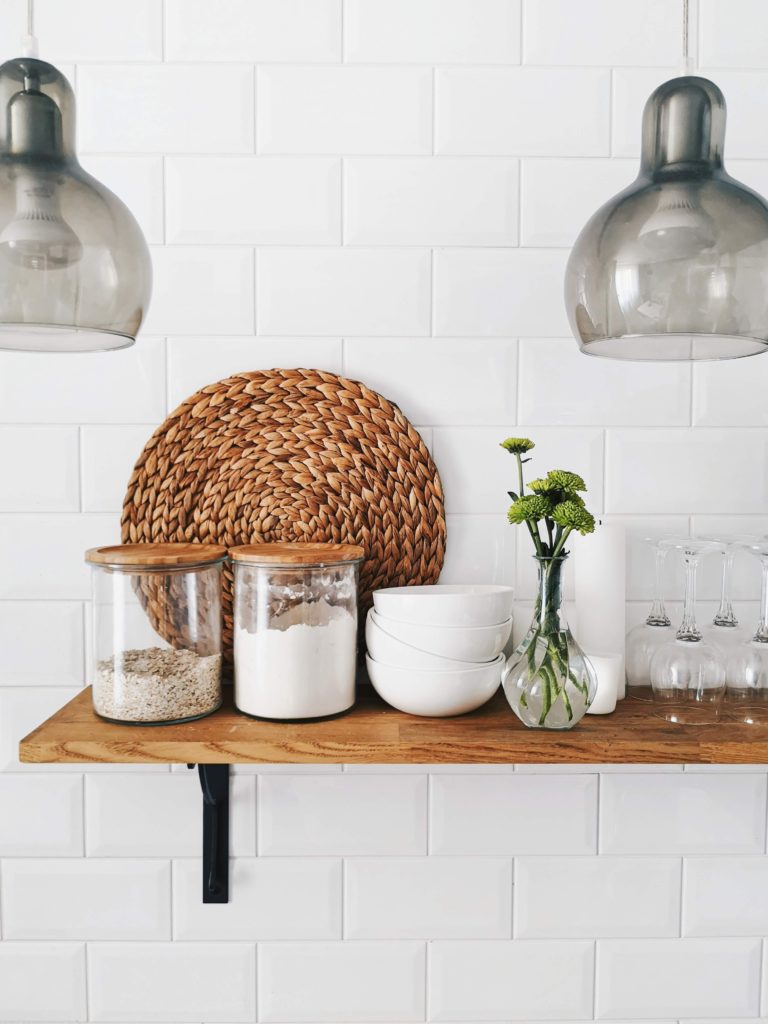 Adding open shelving and storage to your walls is a great way to show off some of your best kitchen accessories such as hanging plants and recipe books whilst also providing extra space to store the necessities, for example, crockery, drinking glasses, or even pots and pans. Especially useful if you have a small space, shelves and wall storage will provide you with a way of displaying your kitchenware and accessories in a tidy manner, keeping surfaces clear.
If you decide to opt for all new cabinets, hidden storage solutions are extremely popular with those looking to conceal as much of their kitchen as possible, including appliances such as dishwashers, fridges and washing machines. If you're not looking to replace your cabinets but would like a clearer kitchen space, discreet storage is also a great way to hide away items that might otherwise be sitting out on your counter such as jars of herbs or pots of cutlery.
Drawer organisers and door storage racks are a great solution to this problem.
These simple tips are an excellent way to bring your kitchen into the twenty-first century with minimal effort and cost, no matter the size of your budget.