Many people make the mistake of failing to see the potential their garden has to offer. Just like your home, your garden can be transformed into an amazing space.
Aside from having an area to sunbathe in and relax with friends, there are also lots of other things you can add to your garden. If you use your garden as somewhere to relax, then why not transform your outdoor space into a tranquil haven?
Even a small garden can offer you the perfect space for relaxing in. Regardless of size, your garden has the potential to become the perfect relaxation spot, so make sure to take advantage of it.
To help you take your garden from what it is now to a relaxing retreat, here are a few tips.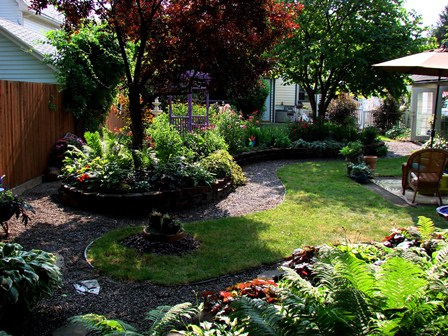 Create shade
Make sure that somewhere in your garden there is an area of shade for you to relax in, this could be under a tree, pergola or parasol. Just make sure that somewhere in your garden there is an area where you can relax in the shade.
If you have an area of grass that is plain, why not invest in an outdoor teepee tent that you can use to chill out in? Fill it with blankets and floor cushions and create yourself a cosy outdoor space where you can relax and spend your spare time in.
Grow fruit
Being able to snack on homegrown fruit from the garden while you spend time outside relaxing is wonderful. If you have enough room in your garden, consider growing some fruit. This could be anything from strawberries and raspberries to pears and peaches, what you choose to grow is up to you.
Fruit plants and bushes aren't expensive to buy and are easy to care for, so if you want to grow your own fruit they are a good option. Growing fruit from seeds can take months or even years, so buying shrubs and trees ready grown is a good idea.
Choose your flowers carefully
When it comes to choosing flowers for your garden, aim to stick to a simple colour palette. Ideally, you don't want to add any more than three colours to your garden, as this will give the space a tranquil and calm appearance.
Opt to buy only a few different varieties of plant, instead of lots of different ones. You can buy these plants in bulk and fill your garden with them, so that it appears full but isn't cluttered with different things. When picking plants for your garden, look for things that attract bugs, bees and butterflies. The more nature-filled your garden is, the better.
Add scents
One of the best ways to make any space more relaxing is with scents, things like jasmine and honeysuckle are both ideal. Relaxing places, like spas and yoga retreats, are often scented with calming smells, as they help people to relax.
One of the best scents for aiding relaxation is lavender. If you have the space, why not add a couple of potted lavender plants to your garden?
Your garden is the perfect place for relaxing in, all you have to do is follow the tips in this guide and you'll have your own retreat.