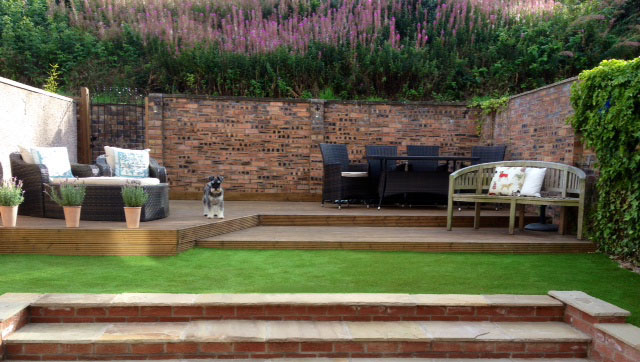 Gardens can be the perfect place to entertain guests; refreshments on chill, BBQ cooking up a storm, fire pit taking the edge off those cool summer nights. We all love to make the most of our outdoor space but when it comes to maintenance we're not so keen. Artificial grass creates a stunning feature without having to get our hands dirty. With little maintenance and the look of natural grass, more people are turning to synthetic to create the perfect lawn all year round.
Eliminating a multitude of lawn nightmares such as overgrown grass and shrubs and weeds, artificial grass saves time and effort spent gardening. Mowing, fertilizing and constant watering regimes are no longer necessary as a light hose down will suffice. Grass cleaner is available for a deeper clean, however brushing with a stiff broom will remove any unwanted debris such as dirt and leaves. Restoring the grass is easy too! Sometimes the pile can become compressed with excessive pressure, (typically from housing garden furniture) but this can be negated by brushing against the natural grain – restoring the blades back into the original upright position.
Manufactured using superior Polyproylene & Polyethylene fibres, artificial grass is also UV stabilised – meaning it will preserve its natural green colouring regardless of weather conditions. With no pollen count, it's also the ideal solution for those who suffer from hay fever. Free from lead and cadmium, it's environmentally friendly; providing a safe area for children to play. A thicker pile provides a soft landing for falls whilst the quick drainage system enables water to filter through. Often fitted over a sand sub base, you can say goodbye to muddy footprints and grass stained clothes.
Synthetic grass is also pet friendly as it does not discolour from those lovely parcels our pets leave us in the middle of our lawn. The quick drainage system makes cleaning down after your pet effortless as excess dog foul simply washes away, eliminating any lingering odours. The robust materials also withstand the efforts of our digging friends whilst the non-toxic, hygienic properties allows a safe area for our pets to roam.
Whether you're looking for a realistic natural grass or a resilient alternative, artificial grass varies in thickness, pile weight, colour blends and yarn shape to create the perfect finish. For a more natural looking lawn, a greater depth and pile weight coupled with multiple yarn colours is advised. However, for the sports fanatics among us looking for a more robust turf, a shorter depth is most suitable.
Sourcing a quality backing material is important as this can impact the overall appearance and longevity of the grass – a solid, durable backing with a generous stitch count and ample drainage is key to achieving a great, long-lasting result. Multiple compact stitches provide a larger volume of grass whilst an efficient drainage system will quickly disperse of heavy rainfall, avoiding any surplus water laying on top of the grass.
Traditionally used as a grass replacement, recent trends have seen fake grass laid over balconies, decking and roofs as a unique garden feature. Regardless of your chosen location the supporting surface must be flat, stable and permeable to water.
When it comes to fitting, anyone possessing basic DIY skills can give it a go. There are numerous easy-to-follow step by step guides available to assist you through the process, or alternatively, plenty of landscapers can install artificial grass.