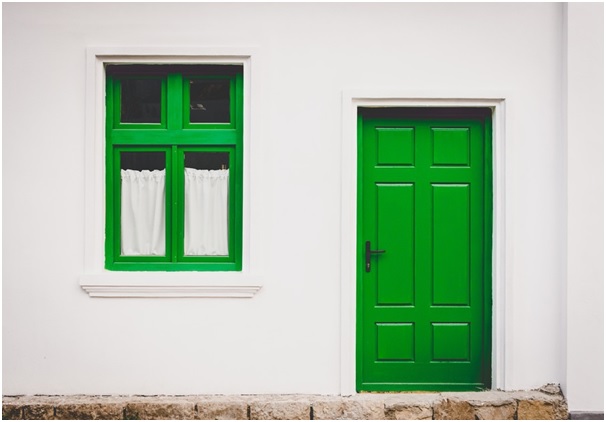 The entrance of a home says a lot about its owners, and the front door makes up a huge part of this impression. A welcoming entranceway will make your house look cosy and inviting, while an old and worn door does not give a good first impression to any prospective guests. Upgrading your front door can not only increase the value of your home, but it also allows you to put a personal twist on the façade of your home and get it looking just as good as your interior. Here are our tips on choosing the perfect front door for your home.
Use your front door to express your personal style
While many of us go to great lengths to express our personality through our interior design choices, we rarely extend this to the outside of our homes. However, the façade is the first impression people get of our home, and by neglecting this often-overlooked area, the hard work we've put in to getting the rest of our house to our tastes is totally undermined by a poor first impression.
An easy way to add a bit of style to the front of your home is through the front door. Firstly, you need to stop seeing the entranceway to your home in simply functional terms. The front door sets the tone for the style of the rest of the home — a modern, plastic door with sleek lines can look great leading on to a home decorated in a contemporary style, while a wooden door with a patterned window will express a more traditional taste.
For ideas on how you can express your own personal style through your front door, take a look on Houzz andPinterest for inspiration. The examples on these sites show how much flair you can add to the outside of your home by simply upgrading your door.
Go for something colourful
One of the boldest ways to add a bit of personality to your entranceway is to go for a door in an unusual colour. This looks particularly good if you match your door and window frames, which will turn these ordinarily functional items into a focal point. Evander makes doors and uPVC windows in a wide range of matching colours, allowing you to make an eye-catching statement by getting them in a matching hue.
Accessorise your door
Another great way of adding some style to your front door is through accessories. If it's congruent with the rest of your décor, make a statement with an ornate door knocker, such as these from Etsy, or a stylish door knob, such as these from notonthehighstreet.com. These accessories can add a touch of style and personality to a new or existing front door and bring your entranceway to life.
If you feel that your home's façade is in need of an injection of style, consider replacing your front door with these guidelines in mind. This is sure to add a splash of style to the front of your house and help it stand out from the rest, which can make all the difference if you ever come to sell.