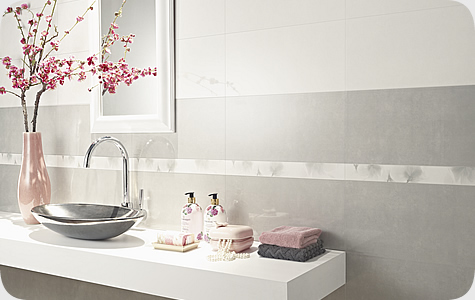 The bathroom is the most popular room in a domestic home to find tiles. This is largely down to the hygienic and water resistant solutions they have compared to wallpaper, carpets and most paints.
In addition, tiles can add potential value to a bathroom and offer some unique finishes which can't be matched by other materials.
Bathrooms can accommodate all types of tiles whether they are ceramic or porcelain, travertine or slate. Ultimately, personal preference is key, however the tips below will help you narrow down your choices and assist you to choose the right tile for YOUR bathroom.
Hygiene
Bathrooms need to be a place of hygiene, which tiles can certainly offer. With their 'fresh' appearance and 'easy wipe' surfaces, hygiene is one of the first things that come to mind when using tiles in the bathroom.
Although tiles are water resistant, they aren't totally waterproof. One very important piece of advice for shower areas is that you waterproof the shower area prior to tiling with a waterproofing kit. These inexpensive kits will prevent any potential water damage to the walls behind the tiling.
Furthermore, If you choose natural stone tiles for your bathroom, ensure they are sealed with the advised maintenance products prior to fixing to prevent water damage/staining.
What size tile would look best in my bathroom?
Most tile FAQ pages will advise you to avoid using large bathroom tiles (e.g. 60x30cm) in a small bathroom, as they will dwarf the room significantly. Although this is true for some cases, if the majority of the tiles can be applied without any cuts, the end result can be very impressive.
Although small tiles (e.g. 10x10cm) can look good in smaller bathrooms, the many grout lines (compared to using bigger tiles) can sometimes give an unappealing effect. Consequently, many people choose medium sized tiles (e.g. 40x20cm), which are a common choice for large and small bathrooms today.
You should also take note of the spacing between your washbasin, toilet, windows, etc. If the spacing is very compact, small tiles may be the better option, as they will 'flow' better than larger tiles and require less cuts.
How tiles can make a small bathroom look bigger
Light coloured bathroom tiles (i.e. white or cream) can make small bathrooms look bigger as they reflect the light more than darker colours, giving an airy and spacious feel to your bathroom.
Using the same colour wall tiles as the floor tiles can also give your bathroom a spacious effect. To enhance the effect, you could use a similar coloured grout with the tiles or purchase rectified tiles that allow tiles to be fixed closer together.
Bring nature indoors!
Have you considered natural stone tiles in your bathroom such as travertine, marble or slate? These can create some fantastic effects! Due to the increased popularity of natural stone tiles, many tile manufacturers are now producing ceramic/porcelain tiles with designs that replicate natural stone.
Will tiles make the floor cold?
In general, tiles actually retain heat so they shouldn't feel cold on your feet, however it can often depend on the surface underneath the tiles. For example, tiling onto wood (which can 'breath') will create a warmer feel than tiles that are placed on top of concrete.
Undertile heating is a modern solution to warming floors and entire rooms. There are many benefits to undertile heating such as giving you more wall space (no need for radiators), low running costs, and a more efficient way of heating a room (compared to a radiator).
How many tiles do I need for my bathroom?
Find out by using our tile calculator which will help you determine how many square metres of tiles you require.
View some inspirational bathroom tile ideas…
Our bathroom products page is designed to give you inspirational bathroom tiles ideas to help you see what could potentially look good in YOUR bathroom. In addition, you can also view our customer photo gallery to see real-life photos of completed bathroom tile projects sent in by our customers.