Anyone who wants to spend time outdoors this summer will need to perform some basic garden renovations. However, some people like to go a step further by completely altering the space they have. In this post, we're going to present you with some ideas that you might have overlooked in the past. It isn't about keeping up with your neighbours; it's about creating a relaxing and tranquil sanctuary where you can unwind or hold parties. None of the suggestions we're going to make should cost you thousands. So, anyone with a credit card in their pocket should be in a position to get started this weekend.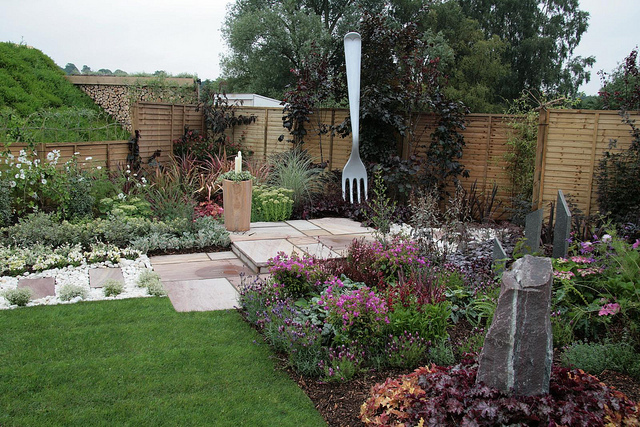 Build a large patio
You're going to need a patio so your grass doesn't suffer. There are lots of different ways you could go about building one. For instance, some homeowners like wooden decking, and so they use that material when building a platform for seating and barbecues. If you don't like that idea, it could be time to invest in some concrete slabs. At the end of the day, your patio is a functional construct. However, that doesn't mean it shouldn't compliment the rest of your garden design. Get some stylish garden chair cushions to give the area a little more colour. Also, you might like to paint the decking or slabs in a bright and vibrant shade. Just make sure you avoid white because it will reflect the sun too much.
Create custom flower beds
There are lots of articles online that tell you to get hold of old lorry tyres to create custom flower beds. However, we think you can get good results by spending even less. Head down to your local DIY store and grab some wooden floorboards. Cut them to suitable sizes and use them to make a square box in which your flowers can grow. That should cost you no more than £20, and it could improve your garden greatly. As all estate agents will tell you, a good garden could even increase the value of your home if you decide to move in the future. Any leftover wood can be used to create borders for your lawn or something similar.
Dig a pond
Wildlife is important if you want your garden to remain healthy. That is why you should never use pest control products, no matter how many flowers you might lose. You can get plastic pond bases from online retailers for as little as £100. Once you have one; you just need to dig the hole and put it in place. Presuming you do that without too many issues, it is then time to purchase a water pump and hook it up to your mains supply. The staff at your local garden centre should be more than knowledgeable enough to advise you on the best species of fish to keep. Just make sure your pond is covered with some netting to ensure the neighbours cats don't get an easy meal.
That should be enough to help you make a start on your garden. Just don't leave it too long because we don't know if this fantastic weather is going to last into July and August. Thanks for reading this post, it makes our job worthwhile. If you need more guidance, there are lots of other articles on this site that might be of interest. Take a look around before you leave.