Whether you're ready for a home renovation or an overhaul of your most prized possessions, there are various ways that you can increase your living space without ending up broke.
Don't rush to flash your cash to costly contractors before you've read our post on the best ways to maximise your property on the cheap. In this article, there's something for everyone, including the frustrated family desperate for alone time, the squashed student who wants to make the most of their small apartment and the restricted renter who has to live by someone else's residence rules.
Clear Out
If an official home renovation isn't on the cards, the simplest way to create extra space in your home is to declutter. Excess space does exist in your current home and can be found in places clogged up by useless paraphernalia and junk.
Often, the thought of sorting through our life's possessions can be so overbearing that we're all too willing to part with our hard-earned cash to make our houses bigger. While there are some truly transformative home renovation options that will give your living space some room to breathe — which we'll discuss later — it's pretty pointless to invest in them if your old mess is going to instantly spill into your expensive new environment — the more room you have, the more space for clutter, after all.
How can you make the dreaded clearout less painful? Try following a tried and trusted method, like Marie Kondo's konmari approach. The subject of a bestselling book, new Netflix series and enviable Instagram, the konmari method is an emotional approach to clearing out your clutter that doesn't make you feel bad about keeping memorable items.
Instead of targeting your trash in one afternoon, tear-stricken and bin bag in hand, Marie suggests categorising your belongings and working through each of the groups separately and with a clear mind.
Clearing out your wardrobe, junk drawers and spare room isn't about sacrificing items that you love. Instead, decluttering makes way for more important things in life, like the extra living space you desire. A minimalist lifestyle is often talked about in the current consumer-centric world that we live in, as many of us feel overwhelmed, overindulged and unhappy with our lives. As popular minimalist blogs will tell you time and time again, minimalism is not about living in an empty life but is a tool that can assist you in finding freedom. Failing that, there's always the good old "if you haven't used it in a year, you probably never will" approach.
Use Existing Space
If you are set on a structural alteration to your home, make it worthwhile and budget friendly. Making use of your existing space is cost-efficient, smart and straightforward. Many people don't realise the intricacies of creating additional spaces outside of your four walls, such as gaining planning permission, hiring an architect, having a home survey completed and waiting for the project to be finished. These actions aren't only time-consuming, but they also cost extra money outside of the initial quoted extension price.
Avoid this fuss by choosing a home renovation type that will take place within your existing property and require minimal input from third parties.
These are some of the most popular renovations that don't require planning permission:
A loft conversion

: Plenty of homeowners have begun to favour loft conversions because of their ability to

add significant value

to their home. Remember, when it comes to prospective buyers, an extra bedroom gives you brownie points. When deciding between extending your living area or your guest capacity, it's financially smarter to pick the latter.

A basement renovation

: Much like a loft conversion, a basement renovation gives you an entire extra floor that can be used as a space to indulge your hobby or even make money. Some homeowners have created their own granny flat with a separate outdoor entrance, internal plumbing system and appliances so that this space can be used for short-term rental.

Create an open-plan layout

: If you want to increase your living space and no longer feel cramped while trying to enjoy your morning coffee, you need to tackle the downstairs space in your house. If a built extension isn't an option for you (these types of renovations can cost

up to £50,000

), consider simply knocking through some of the walls that separate your living area from your kitchen. You'll find that the hallway that once seemed wasted now brings light into the room and that the space between your kitchen and sofa suddenly feels like a social space.

Build a balcony system

: A balcony has the effect of extending your master bedroom and also provides a space to get some much-needed fresh air. Balcony systems are technically classed as outward buildings, but they often rely on flat roofs and metal structures that don't involve any serious building materials.

Switch to bi-fold doors

: Changing the decorative details of your home can make all of the difference, so you don't necessarily have to fork out big bucks to alter the entire structure of your home. Instead, consider switching to bi-fold doors, which give the illusion of added space. For an added touch and immersive experience, install a

VELUX skylight

into your roof, which will bring in more light to make your space appear even larger.  
Do Your Research
When dealing with large projects — or any project — time and money are vital considerations. If it's the latter you're lacking, be prepared to set some hours aside to do plenty of research.
Giving yourself multiple options and picking up more than one quote is a good idea before you commit to any type of home renovation. Imagine if you only requested a quote from your nearest supplier, whose prices tend to sit on the more expensive side. You could have saved yourself a few thousand pounds just by taking an extra few minutes to consult a competitor.
That said, simply choosing the cheapest quote on the market will often mean compromised quality and a lower level of service. The golden ticket is to strike a balance between those that will strip your bank balance and those that will only provide a botch job.
There are plenty of online resources to help, too, so there's no excuse when it comes to conducting first-hand research on the finer details of your renovation.
If you've weighed up your options and you're considering a conservatory, be aware that a traditional glass conservatory is not necessarily the best option for frugal buyers. It might be that this popular renovation is cheap at first, but did you know that glass conservatory roofs are prone to water damage, weathering and leaks? Additional maintenance costs down the road could mean that a once reasonable investment becomes a significant drain on your resources.
On the other hand, a tiled conservatory roof is likely to last a lifetime and is able to offer you extra living space that you can enjoy even throughout the winter. Compared to the glass variety, tiled roofs retain warmth in winter and provide cool shade in summer, making an aptly named "sunroom" a more versatile investment.
Multi-Functional Furniture
If you live in an apartment building or a rental property, extensions might not even be a viable option for you. How can you make your living space feel bigger without performing any alterations that require a landlord or building manager's permission? It's simple — get savvy when it comes to finding furniture.
The tiny homes movement, where people create living quarters in trailer-sized spaces, is a perfect example of smart furniture sourcing. There is plenty of inspiration out there, with a plethora of videos that take you on tours of tiny homes, outlining the multi-functional features that make it possible to exist in such a small space.
From folding chairs to multi-purpose tables, these furniture types can be utilised by students in small square-feet apartments, individuals in terraced houses sandwiched between two properties and renters who want to make the most of their borrowed digs.
About the Author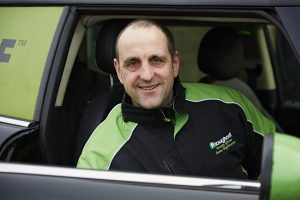 Chris Hopkins is an accredited roofer and experienced entrepreneur who formed the professional roofing and renovations company, Ploughcroft. A customer-focused business dedicated to delivering high-quality sustainable roofing with a personal touch. Ploughcroft's extensive portfolio of residential and commercial customers includes a conservatory and building roof replacements for schools, churches, stately homes, hotels and heritage sites.