Lucy Shore, Creative Designer at window dressing expert, Swish, comments on the luxury feel of this season's pastel trend:
"Muted, pastel shades combined with hints of soft metallics cannot help but imbue a feeling a luxury, and this season we are seeing delicate cloud greys, fauns and cashmere pink shades with satin metallics which bring a real touch of sophisticated indulgence to our homes.
"Start with a palette of softer shades such as pale pinks and greys, and build with layers incorporating soft metallic colours for a calm but surprisingly opulent effect. Adding highlights of a stronger shade, such as muted raspberry or misty lavender, will add a dash of colour without overpowering the finished look.
"A mix of beautiful fabrics is a must within this trend. Look out for textiles, curtains and throws with a soft shine or a delicate, hazy floral pattern to bring in smooth, fluid movement. The addition of a painted curtain pole, such as the Panna Cotta, April Cloud or Antique Silver finishes from Swish's Romantica range, will further serve to enhance this very tactile yet soft look and bring it right through to your window dressing.
"Where accessories are concerned, touches of subtle, pastel geometric patterns sit perfectly next to softer shapes and tinted glass, for a stylish and seamless look. Interesting vases, unusual shaped bowls and even using one-off plates as wall art, not only look fantastic but also ensure you can bring in a range of muted hues. Crystal tie-backs, such as Swish's VetroBello in Amethyst or Clear, or Excelsior in Grey, Taupe, Silver, Putty or White, add a shimmer finish to complete the look."
Prices for Swish's Romantica painted pole collection start from £80.99 for a 1.5m pole. VetroBello tie-backs cost £13.49 each and Excelsior tie-backs are priced from around £21.59 each.
Swish products are widely available from independent retailers, department stores and online. For further information or stockist details visit www.swish.co.uk or call 01543 271421.

 The painted April Cloud finish from Swish's Romantical collection is ideal to bring this look right into your window dressing. Prices start from £80.99 for a 1.2m pole.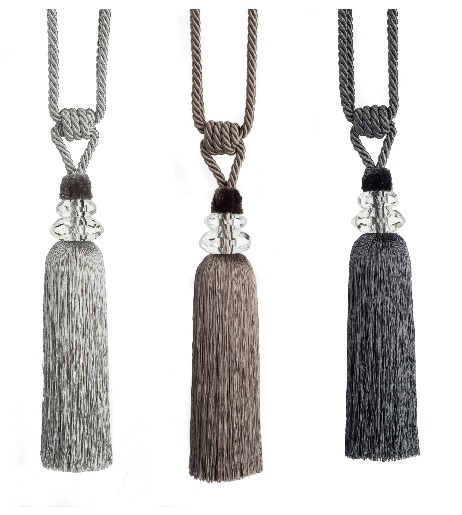 The Excelsior tie-back from Swish in (l-r) taupe, silver, grey add a shimmering finish to this pastel scheme. Prices start from £21.59 each