You may not consider yourself to be an expert in horticulture, but when it comes to buying a house with a garden, a little knowledge can go a long, long way. While there are several known plants that can damage property in various ways, Japanese knotweed has to be top of the list of undesirables.
What is so bad about Japanese knotweed?
So, what is this danger lurking in our gardens? Japanese knotweed (Fallopia japonica) is a highly invasive plant that grows unbelievably fast – as fast as 10cm per day. A hardy perennial, the bamboo like plant has attractive large green leaves and red stems. It spreads quickly and even the tiniest pieces of cut stem can take root, meaning it is nigh on impossible to kill using conventional methods. A pervasive weed of the worst kind, the plant has the ability to penetrate bricks, concrete and drains and can cause subsidence.
The Telegraph once called Japanese knotweed a 'tarmac-smashing thug' of a plant and, unsurprisingly, mortgage lenders have traditionally been not at all interested in lending on properties known to be affected. Most home buyers will think twice of proceeding with the purchase of a property where knotweed has been identified.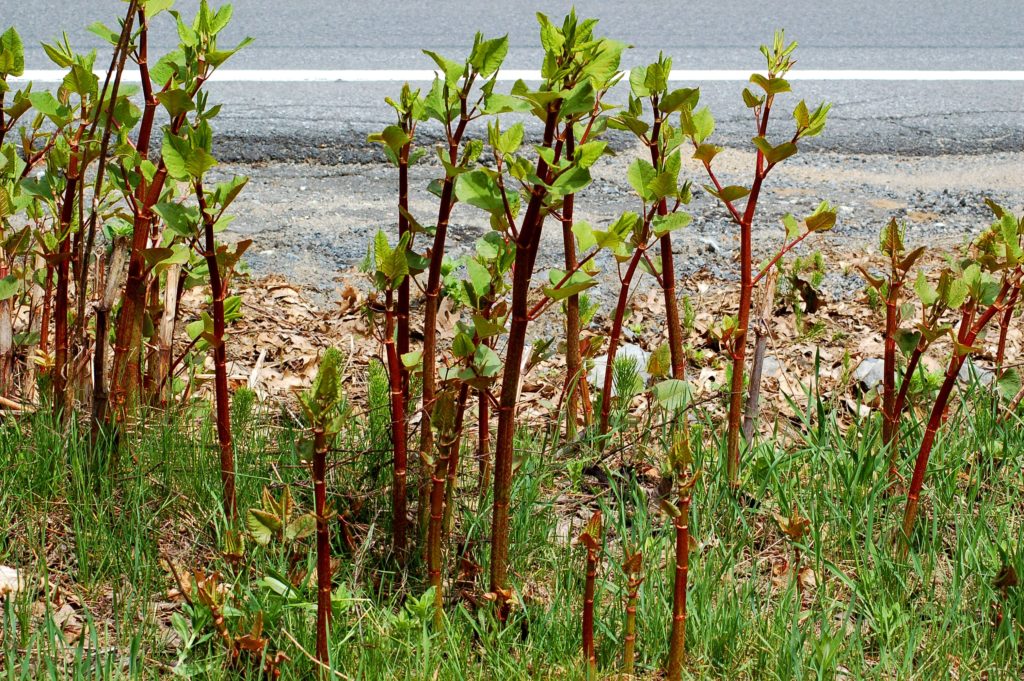 Could your prospective dream home be affected?
A known or suspected presence of Japanese knotweed should be highlighted in your building survey. What's more, the seller is obliged to answer whether the property is affected by the malicious weed on the Law Society Property Information Form (also known as TA6).
It's not an easy thing for a seller to admit, as solicitor Ian Oliver points out in a recent blog post on the subject of Japanese knotweed enquiries: "If you have the plant, you are obliged to tell your buyer. If you do, they will more than likely pull out of the deal and your property will be blighted," George Ide.
That said, attitudes towards this garden scourge appear to be softening among recent research carried out by Leeds University that suggests Japanese knotweed perhaps doesn't cause as much structural damage as previously thought. Mortgage companies also appear to be showing less hostility to the plant.
As one housing expert explains, "historically the mere mention of Japanese knotweed being in the vicinity of a property was enough for a lot of lenders to immediately decline an application. However, as there has been a more sophisticated understanding of Japanese knotweed and the treatments available, a much more flexible approach has now been taken by the majority."
How to proceed with your purchase
Having found the house of your dreams and looking forward to making your life there, you will understandably be disappointed by the unwelcome news. But take heart, Japanese knotweed need not be the deal breaker that it once was. If dealt with correctly, the plant can be eradicated, leaving you to enjoy you new home for many years. Here is how you should proceed.
Identify the extent of the problem
Regardless of whether confirmation of Japanese knotweed on the property came from the seller or your surveyor, it's a good idea to commission a specialist knotweed survey so you know exactly what you're dealing with, the extent of the risk involved and advice on remedial solutions.
Expert help is available from the Invasive Weed Control Group, a trade body for Japanese knotweed specialists set up by the Property Care Association (PCA). They have a registered of reputable vetted consultants and contractors who can help with eradication and treatment plans.
Understand your future responsibilities
As a property owner, you will be taking on the liabilities that Japanese knotweed presents including managing the problem. Encroachment is a potentially huge issue, since the plant will grow in any direction, without respecting boundaries. Even if your property is free of the plant but it has been detected in a neighbouring garden, problems can quickly escalate.
What if the knotweed spreads from your property to neighbouring land? Or the other way round? Establishing and maintaining good neighbourly relations in the face of knotweed being a bone of contention may not be as straightforward as you had hoped.
Consider the potential damage
It's critical that any damage the plant has already caused to the property you are about to buy is professional assessed. If knotweed is growing close to the building, it may already have damaged underground drains or building foundations – the weed's extensive underground system won't be visible from above!
A building defects investigation is highly advisable to ensure the full extent of any damage caused. The survey should also determine where the knotweed originated from, in the event of a future encroachment claim.
Speak to your mortgage lender
It is essential that you disclose the presence of knotweed to your lender without delay and find out whether they are happy to go ahead with the mortgage, otherwise you may have to look for a new lender. Many mortgage companies now take a pragmatic view as long as action is taken to have the knotweed removed by a reputable contractor who will provide a knotweed insurance backed guarantee.
Get clear information from your mortgage lender on what exactly you are required to do, and the type and length of guarantee necessary, before you make contact with a knotweed removal company, so that you are fully covered.
Don't accept inferior solutions
Don't make the mistake of letting the seller sort out the knotweed problem in the run-up to exchange. His sole motivation will be to get the property transaction over the line with a minimum of cost and inconvenience. If work has already been carried out, check all documentation carefully with the help of a professional.
If remedial work has yet to take place, insist that the removal of Japanese knotweed is carried out by a trusted, PCA approved contractor. These are specialists that have the ability to follow up the agreed work with a guarantee, which your mortgage provider will require.
Japanese knotweed is a potentially serious issues for any building and any home owner should treat this highly invasive plant with the respect it deserves. There really is little point carrying on with the property purchase if you, or your lender, are not satisfied with the quality of the work that's been done by the current owner.