James Bond is a fictional MI6 agent known the world over for his licence to kill and deluxe way of life. From stunning love interests and notorious villains to an arsenal of weaponry and unique gadgets, he certainly knows a thing or two about being a spy who oozes the epitome of being cool.
Throughout the 25 films that have followed Ian Fleming's classic series, we have seen the titular character stay in some of the best hotels in the world, often chilling on the beach or in the pool with a vodka martini in hand.
Here, we take a look at some of the best and most James Bond-esque swimming pools the world has to offer. From a pool the colour of blood to another surrounded by elephants, here are seven – or 007 – pools we think the secret agent would be proud to stay in.
Oh, and please excuse the many puns scattered throughout the article. I couldn't help myself.
San Alfonso del Mar Resort, Chile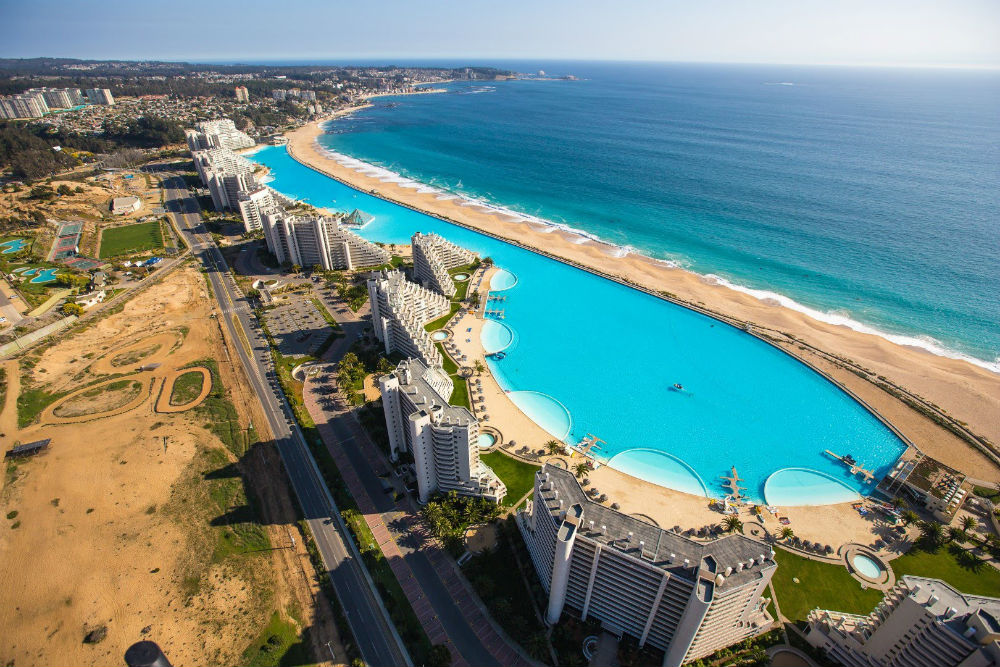 Whether you're coming from Russia with love, or somewhere else with money, the San Alfonso del Mar resort is one of the biggest swimming pools in the world. Located in Algarrobo, Chile, the pool is one kilometre long, stretching alongside the shores of a private white-sand beach.
Back in 2006, it entered the Guinness Book of World Records as the world's biggest swimming pool but was trumped nine years later by the Citystars Sharm El Sheikh swimming pool in Egypt. However, the Chilean pool feels a lot more luxurious and unique, making it a must-visit destination. Whether you're a secret agent or not, it really is a worthy addition to anyone's bucket list.
Infinity London, UK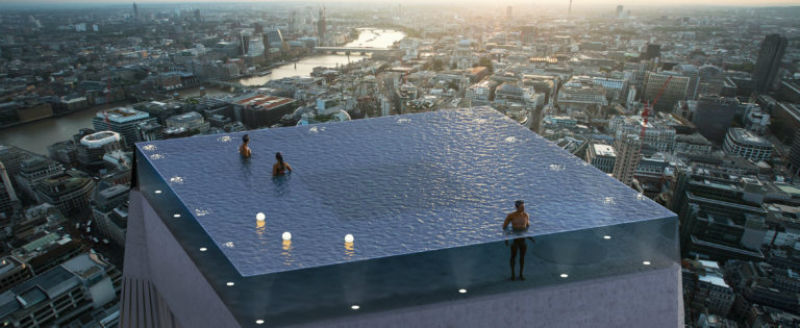 Source: Compass Pools
James Bond is often known for fighting baddies at height – whether it be in the back of a helicopter or at the top of a skyscraper. However, he will soon be able to swim at height as well, courtesy of the recent announcement that a rooftop infinity pool will be being built in London.
Known as Infinity London, the unique pool design with sit atop a 700-foot skyscraper in the UK capital and will use a highly innovative submarine-style method of getting in and out. However, with construction not expected to start until late next year, you and Bond will, unfortunately, have to wait to Dive Another Day.
Jade Mountain Resort, Saint Lucia
Source: Jade Mountain
Offering not so much a view to a kill but a killer view, the swimming pool at the Jade Mountain Resort on the island of Saint Lucia is widely regarded as one of the Caribbean's hidden pearls. With a private infinity pool or jacuzzi in each individual room, guests can live a life of James Bond-esque luxury from the large communal infinity swimming pool as well.
Featuring incredible views of Saint Lucia's various pitons and picturesque landscape, the resort's various pools are the perfect place to sit back and relax with a cocktail, beer or martini – shaken, not stirred of course.
Chongwe River House Pool, Zambia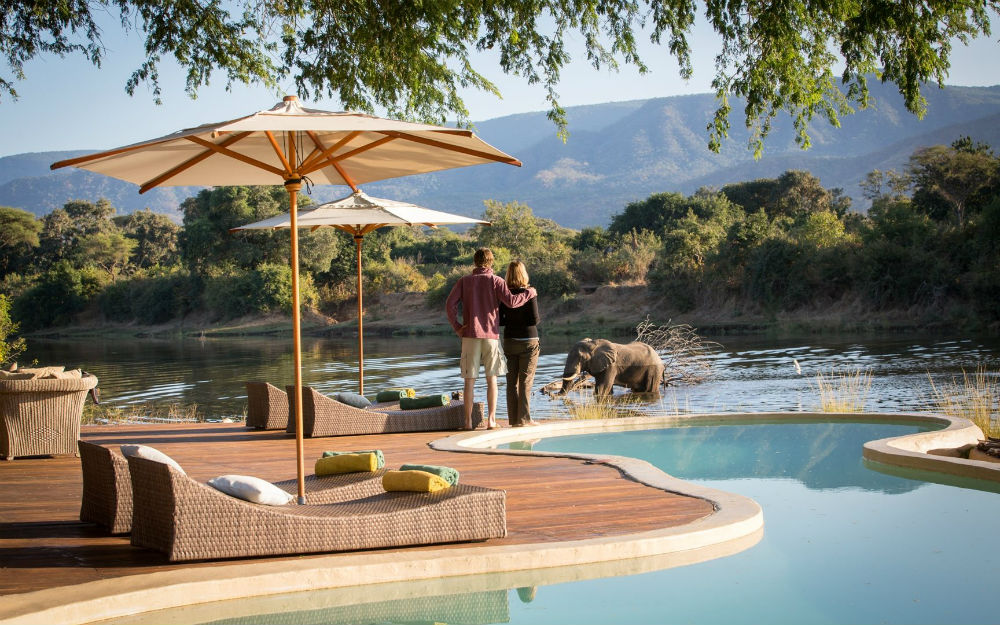 Source: Safari and Beach
If you're looking for your very own small area of comfort – or a quantum of solace – look no further than the Chongwe River House Hotel Pool in Zambia. Here you can expect to soak up the sun in a boutique pool overlooking the Chongwe River, while various wildlife comes over and walk by as if you're not there.
The pool really offers a view that is for your eyes only, but comes at a fairly hefty price; in the low season alone, a one-night stay costs upwards of £440.
Marina Bay Sands, Singapore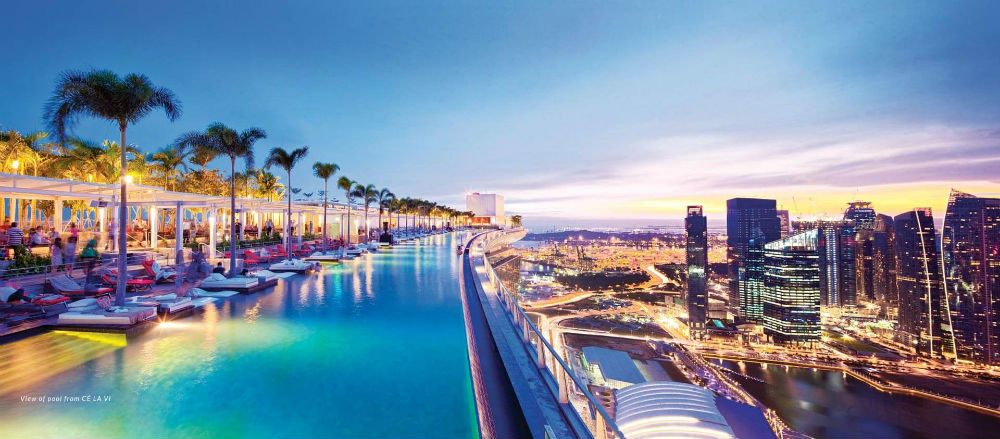 Source: Marina Bay Sands
Better known for giving guests more of a Casino Royale-type experience, the Marina Bay Sands in Singapore is a stunning example of modern architecture at its very best. Featuring a casino, shopping centre, many high-quality restaurants, and views overlooking the city's £830 million Gardens By The Bay attraction, the integrated resort has its very own infinity swimming pool atop its surfboard-shaped rooftop.
Located 57 levels above the ground floor, the 150m-long pool offers expansive views across the city and beyond. However, it's easy to suffer from vertigo being so high up, so make sure to let your Dr. No if this proves to be the case.
Gold Energy Pool, Tibet
Source: Travelling Llamas
A true James Bond-style pool – where better for the man with the golden gun to sit back and relax than in a swimming pool of the same colour.
The Gold Energy pool at the St. Regis resort in Thasa, Tibet offers jaw-dropping views of the Himalayan mountains from its glittering gold-tiled design, leaving you with a lot more than a Goldfinger. Plus, with prices starting at £240 a night, you can get a view to kill for at a fairly reasonable price.
The Red Pool, Thailand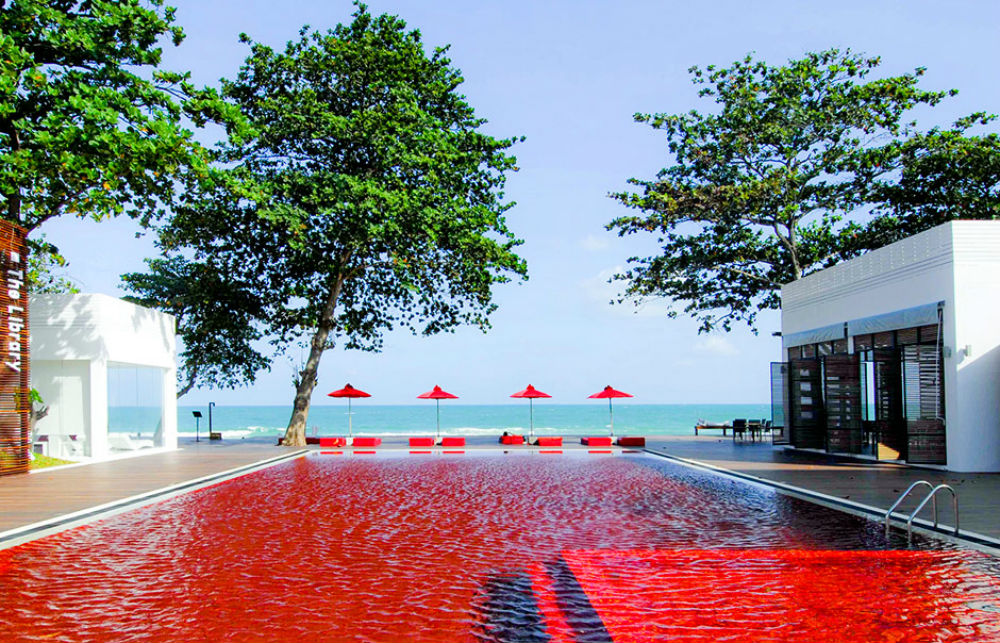 Source: Travel Plus Style
Following on with the colour theme, a swimming pool in Thailand has known the world over for having water the same colour as the blood of Bonds' enemies. The Red Pool at The Library in Koh Samui, Thailand is famed for the unique tiling that gives the pool its distinctive red coloured water.
Saying that though, the water doesn't always only stay red – depending on the time of day, the colour of the water changes accordingly, transforming into a molten gold colour at dusk and blood-red in the heat of the day. It really is a spectre-cle like no other.