It's no secret that summer can leave us feeling frazzled and our homes neglected as we spend time and energy keeping the kids entertained and enjoying fun-packed holidays abroad.
However, August is also a great time to get your house in order and undertake crucial home admin tasks, helping you to feel more relaxed and prepared for the return to work and school.
Which is why anyone with some annual leave remaining this summer should embrace a 'stay-at-home vacation', allowing for a few free days spent at home, to leave you and your home, relaxed and refreshed.
Here, lifestyle expert at Contura wood burning stoves, Catharina Bjorkman, has given 10 top tips to ensure you make the most of your home this summer.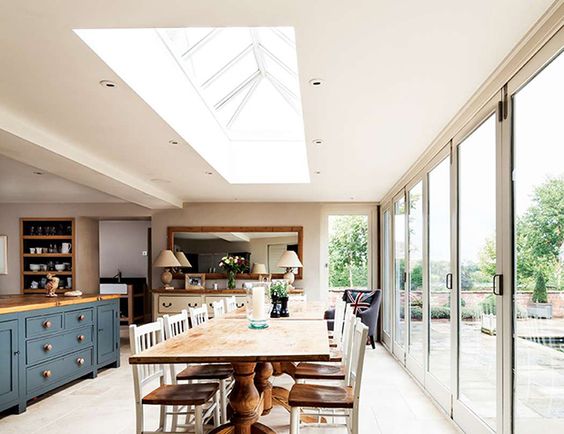 Catharina says: "Home is where the heart is. It should be a sanctuary and a place to unwind, both mentally and physically. Spending time getting your home in order can help you to recharge and reset, it's also a chance to prioritise tasks ready for the colder months when you'll be spending more time at home indoors."
1. Room layout
Are you making the most of the available space in every room? Does the room have a good flow? If the answer is no, try changing the layout by moving furniture around, particularly in the room(s) where you spend most of your time. Think of the function of a room and how you use it; if you spend a lot of time watching TV in the living room, make sure your furniture is placed in a way that it can be easily seen. Make sketches of your rooms and map out where your larger items (bed, dresser, shelves etc) would work best, then add smaller items around these to make best use of the space.
2. Take stock of your furniture
It can be tempting to splash out on new furniture, but chances are your existing furniture needs some TLC rather than replacing. Getting your sofa re-covered is cheaper than forking out for a brand-new sofa, likewise, clean and polish your furniture before discarding it. You may find once shabby items look brand new with a little sprucing up.
3. Let the light in
Clean windows, curtains and blinds will instantly brighten up the room and get rid of any grime or dirt collected over summer. Wash the windows inside and out, dust and wipe down shutters, and put cotton blinds and curtains in the washing machine on a cool cycle. You'll be amazed how these simple steps can give your rooms an instant boost and lease of life.
4. DIY tiles
From wall tiles in the bathroom to floor tiles in the kitchen, tiles can bear the brunt of busy lifestyles. If yours are looking a little worse for wear, try replacing the grout for an easy update without the need to replace the existing tiles. Use a grout rake to remove old grout, being careful not to scratch the tiles, then replace with new grout – always read the instructions for best results.
5. Give your plants some TLC
Did you know that wiping plant leaves with the inside of a banana skin will give them instant shine and life? As well as frequent watering, plants should also be dusted to boost their longevity. Green plants liven up any living space and are natural air purifiers; try adding a cactus or spider plants as these don't require a lot of maintenance.
6. Clear those drains
It's not a pleasant job but clearing the drains will save you time and money in the long run. Unclog shower and kitchen drains using an anti-blockage chemical and invest in drain grates to prevent excessive build-up. Likewise, clear any leaves and build-up from the drains outdoors to ensure they function well during the rainy seasons ahead.
7. Get the flue cleared
If you have a wood burning stove or open fire, it's important to get the flue cleared of tar and soot build-up as this will enable the fire to burn more efficiently. This is a job for the professionals, so find a local chimney sweep to get your fire in top shape for winter. An efficient fire uses less energy, which is kinder on your wallet and the planet.
8. Clear out the attic and basement
The attic and basement are often a dumping ground for Christmas decorations and general clutter but taking time to clear out junk will free up space and help you prioritise which items are useful and worth keeping – you may even unearth some forgotten treasures.
9. Tidy home, tidy mind
It's an age-old sentiment, but a clutter-free home will bring a sense of calm and order. Rather than tackle rooms bit by bit, take a few days to blast the whole home and purge it of items you no longer have a use for. Take what you can to the local charity shop as a first step.
10. Enjoy your home
Above all, your home should be a place you enjoy spending time. Summer is a busy time and it can be stressful fitting in activities but take time to relax and recharge when possible. Take a long bath, read a book and invite friends over for coffee and a catch up. Ditch your phone and spend time living in the moment to boost your health and happiness.