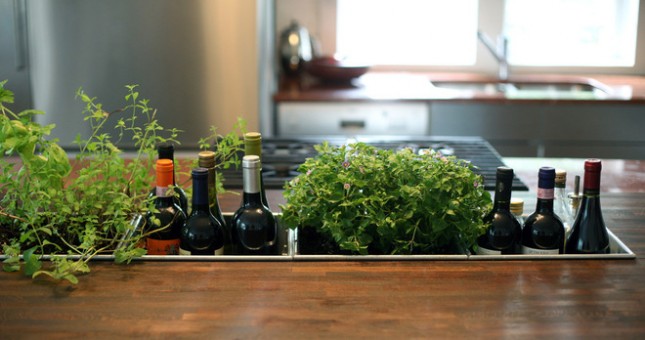 We all have visions of our dream kitchen but an entire renovation isn't always on the cards. That's why it is necessary to find easy, affordable updates to your space, which will give it the lift you need. But we are not just talking a cup here or there, we round up five easy ways to add affordable luxury to your space to make it look a whole lot more expensive.
1 Add some plants and herbs
All fancy kitchens, especially those belonging to experienced chefs have easy access herbs, in the cooking space. Adding some greenery gives your space that luxurious lived in, well maintained, cared for look. (Of course dead, brown or wilted plants have the opposite effect so always keep your plants well hydrated and make sure they do get some natural sunlight.)
2 Add an interesting light fitting
Light fittings are all the craze at the moment so up the glam ante of your space but choosing a luxurious, slightly bling fitting. Old farm-house lights are beautiful but if you want the luxurious, expensive look go for something a bit more bling: think of a traditional chandelier or a copper fitting, reminiscent of a palace.
3 Throw in a rug!
What?! You may gasp but it is true, what is more luxurious than a beautiful carpet? This adds an intimate feel to your space and also makes you far more comfy when cooking barefoot.
4 Change up your drawer and cupboard handles
By updating your handles you add a modern touch to your space and depending on the new ones that you choose you can really make your space look more expensive. Think gold or copper, elaborate fittings.
5 It's in the detail
Choose interesting additions to your kitchen, such as unusual bar stools, a new luxurious tap or even artwork on spare walls.