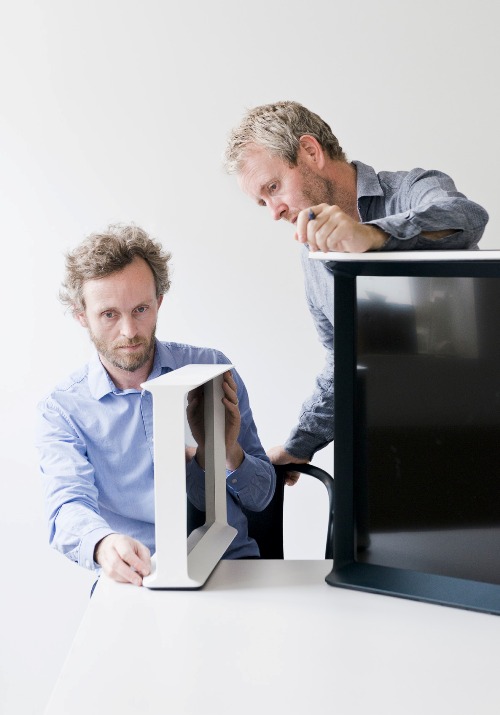 Renowned Paris based designers Ronan & Erwan Bouroullec have exclusively partnered with Samsung to create Samsung Serif TV ­ a television that is set to challenge the way we view its standing in the domestic environment.  Samsung Serif TV does not belong to the world of technology but the world of furniture and design.
Breaking away from the pre-occupation with ultra-flat screens, Samsung Serif TV spearheads a new concept of television that is firmly rooted to the world of the living. With the best Samsung technology, Samsung Serif TV provides consumers with a more elegant viewing experience by being designed to sit naturally within the home.
Samsung Serif TV marks Ronan & Erwan Bouroullec¹s first project related to electronics, with the partnership created by Samsung Senior VP Yun-Je Kang (head of design team in Visual Display) after visiting the Bouroullec studio in 2012.
Launching at London Design Festival (21st-27th September), Samsung Serif TV has been developed by the Bouroullec¹s studying both the object and its interaction with the space around it. The whole design and development process was driven forward by numerous drawings, computer 3Ds and a series of ³home-made² mock-ups in wood and clay. Those mock-ups were a decisive step into the research before starting with the advanced prototypes in the second stage. Many ideas were explored, and step-by-step they arrived to the logic of Serif : a TV defined by a frame that outlines the screen.
Seen from the front, Samsung Serif TV is defined by a single, seamless frame, one colour and one shape. In profile, it forms a clear capital ³I² shape, its slim body broadening to form a shelf-like surface at the top.  The design means it can stand seamlessly in the home by resting on its own base.  Its attachable legs allow it to be placed on the floor or the centre of the room, allowing its placement to be moved and manipulated to suit the situation.
Ronan & Erwan Bouroullec were keen to take an abstract to approach the design, working in their own way without intervention, and were given license by Samsung to develop the user interface. They redesigned the standard interface and the experience, including a transition between standby mode and normal viewing called Œcurtain mode¹.  This mode provides a silent, abstract impression of the TV screen contents offering a present, yet recessive, role for the TV.
A woven fabric panel slots into place to conceal the connectors on the back of the television, making it work in three dimensions and room positioning. The pattern of the fabric, designed to emulate the effect of curtain mode, is colour matched to the colour of the TV. Samsung Serif TV is available in three colours: ivory white, dark blue and red.
Erwan Bouroullec comments:
From the outset of designing Samsung Serif TV our aim was to craft an object that fused technology with our knowledge in furniture design and to create a solid presence that would sit naturally in any environment.
We had the intuition that over the last few decades, screen design has been driven by developments in technology without much sense of our own culture and way of life; the design of Samsung Serif TV has been a conscious step away from this and forms a new form of technology that is dedicated to the domestic environment.
Samsung Serif TV deploys shapes and colours that have broken away from the usual themes of masculine, cutting edge technology and extra-large size. Our TV is more subtle; it doesn¹t exude power and is made to fit into the world we live in.
Y-J Kang, head of design team in Visual Display at Samsung comments: ³As technology increasingly forms part of our day-to-days lives, the design of a product is now just as important to consumers as its functionality.
To address this Samsung has been focused on creating a new breakthrough in the TV market that reflects on users lifestyle and emotions rather than just on technology and specifications, and Ronan & Erwan Bouroullec have been integral in helping us achieve this with the creation of Samsung Serif TV.
³In every aspect Samsung Serif TV could only come into existence by artisan spirit and the project has been truly a meeting of passions between Samsung and the Bouroullec¹s.²
For further information please visit: www.seriftv.com