Whether you're building your home or adding something extra, it's important to use eco-friendly materials where possible. There are really only two types of material to choose from, recycled and sustainable. If you've already reduced your waste, made energy savings, ditched meat from your diet, and stopped using single-use plastic, using eco-friendly building materials is the next step you can make.
The construction industry doesn't have the best reputation when it comes to the building materials used. However, like everything else, there are companies and individuals inventing and investing in eco-friendly building materials.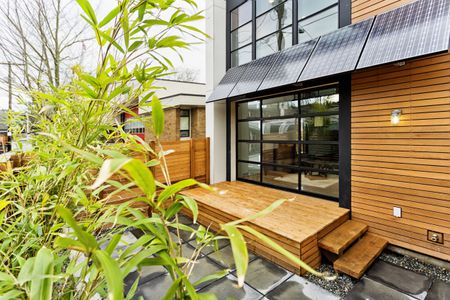 Materials for the Structure
There is a term being bandied around the building industry that can be very confusing. What exactly are "green building materials"? The term is a very broad one and encompasses everything from bricks to straw bales. Traditional materials would be masonry or timber frame; however, straw bales, hempcrete and several other materials made from waste products are being used more and more. Using waste materials means you're reducing the environmental impact of your building project.
Roofing Materials
The most common materials for roofing are clay tiles and natural slate. Concrete tiles are also used, but these are falling out of favour. Other materials include metal, and EPDM, a synthetic rubber. There is a range of roofing materials currently being introduced that are far more eco-friendly. Recycled milk containers is a good alternative as it's resistant to moisture and chemicals and is very malleable. If you want your roof to look as normal as possible, you might want to consider recycled tyres. Green roofing is another popular option as it is a good way to lower heating costs as well as providing a habitat for wildlife.
Insulation
Many new builds in the UK use rigid insulation. It does an excellent job of keeping in the heat but uses an incredible amount of energy to produce. It is often made with plastics, and we all know how bad they are. There are several alternatives such as recycled newspaper, wood wool, and hemp wool. Other benefits to using these alternatives include their ability to absorb moisture or pollutants, minimise condensation and create a cleaner environment in your home.
Windows and Doors
The most obvious choice for windows and doors is timber. Timber Windows Direct offer a wide range of timber windows that can be delivered to your door. Timber is very plentiful and is also a renewable source. Plastic is also used for window frames, but this material takes a lot of energy to make. Add the fact that they are very difficult to recycle and give off toxic fumes when burned, and you'll see why wooden windows are a better option. Another benefit with wooden frames is that they are long-lasting, provided they are given the correct care and attention.
As you now appreciate, there are many different alternatives if you want to use eco-friendly materials in your home. You're making a difference in so many other ways, so continue with the hard work and use green materials.