In the UK it is estimated that five million tonnes of plastic is used every year, nearly half of which is packaging. The construction industry accounts for a quarter of the plastic consumed in the UK, making it the second largest consumer of plastic. Tembé DIY and Building Products, an independent company based in Doncaster who create building and decorating products for professional trade has declared a 'War on Waste plastics' in the construction industry and under its Hippo brand of sealants and adhesives launched a green range to kick the plastic habit.
23% of plastic produced in the UK is consumed by the construction industry
25% of construction packaging waste is plastic
3x more packaging waste is produced by construction than all UK households combined
Sir David Attenborough says the problems that await the world in the next five to 10 years because of climate change are greater than the coronavirus pandemic
No one can do everything, but everyone can do something
Make a change, be the difference – help save the planet and choose new Hippo Eco-Pac for your needs
The issue of plastic waste is high on the agenda and the problem is said to be especially acute in construction, accounting for 25% of the sector's total waste and with as many as 150 million used plastic sealant and adhesive cartridges sent to landfill each year.
"The change is simple, the impact huge, the saving even bigger."
Common plastic cartridges used to seal around a bath or shower are made from durable, high-density polyethylene (HDPE) which doesn't biodegrade. They're resistant to natural biodegradation processes because microbes that break down other substances simply don't recognise HDPE as food. Continuing its drive towards more eco-friendly aluminium foil 'sausage' packaging Hippo has replaced their standard plastic cartridges with new Eco-Pacs which can be used for carrying out many common sealant and adhesive tasks. These strong durable packs are much better for the environment because they generate 96% less waste and less than 1% plastic compared with standard cartridges. Made from durable foil, you can get up to 38% more product in an Eco-Pac for the same cost as a plastic cartridge. When compressed an Eco-Pac is no bigger than a couple of coins.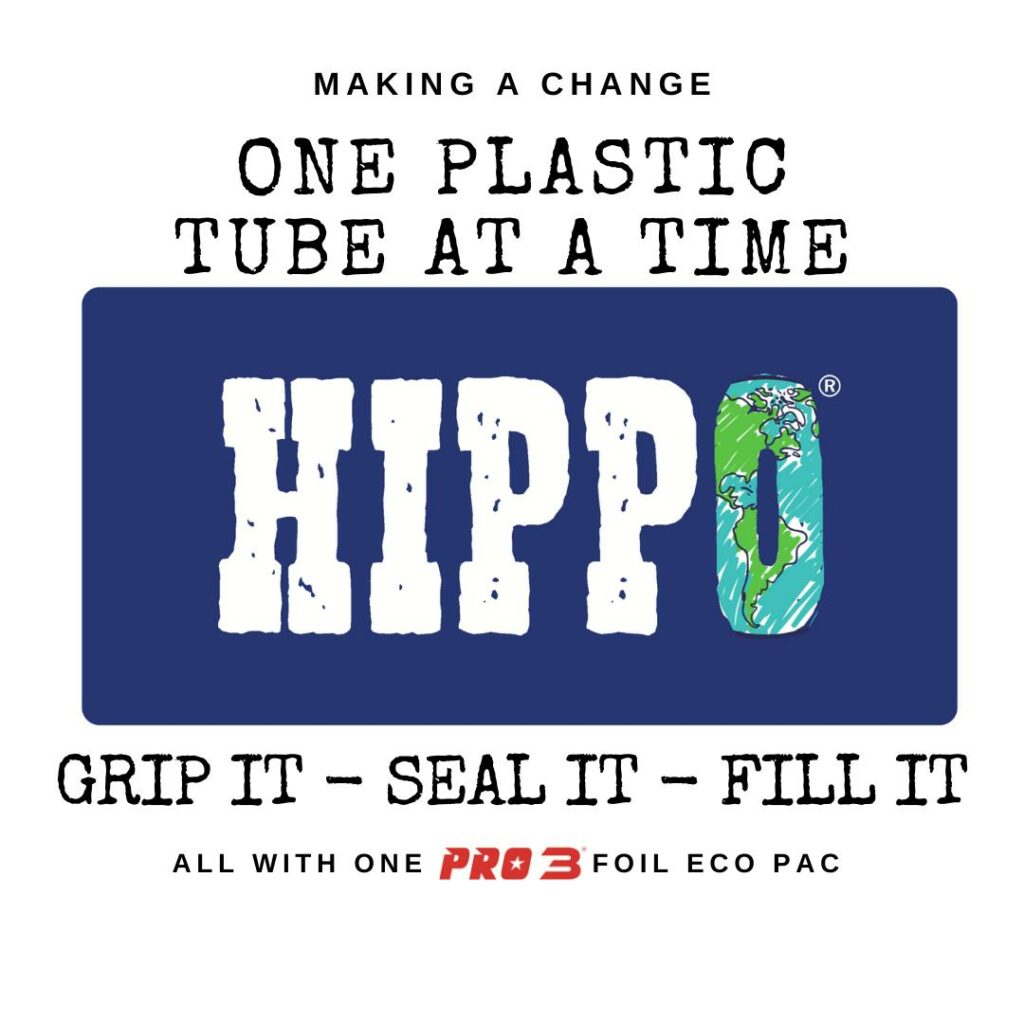 Guy Malam, Managing Director of Tembé DIY and Building Products explains why his company's move away from single-use plastics is a timely one:
"Environmental issues are now dominating the news agenda and we can all do better, we all need to make changes. Figures on plastic waste in the construction industry make for shocking reading. Plastics are finding their way into our seas and oceans and of those plastics that are sent to landfill, some take over a thousand years to breakdown in the soil and it's time the construction industry faced up to the issue. Here at Tembe DIY we hope to move the industry away from single use plastics and change the market forever."
Hippo offers a range of 14 foils for all jobs within the adhesive, filler and sealant categories across the performance levels of 'good, better and best' through products such as its high-performance, multi-purpose premium hybrid sealant and adhesive, Hippo Pro 3. The foils themselves offer 400ml for the same price as 290ml cartridge and can even be removed from the gun and reused again in the future. A mere 1% per cent plastic, Hippo Eco-Pacs reduce the amount of left over waste when empty by 96%. Once removed it is clearly visible how much sealant remains in the foil, unlike the 'traditional' cartridge and plunger system.
Available as part of the Hippo Pro advanced range of sealants, fillers and adhesives from builders' merchants throughout the UK including Travis Perkins, Jewson, Crown, Selco, Buildbase, Boys & Boden amongst others.
PRO1, PRO 2 and PRO 3 Eco-Pacs product list:
Hippo PRO3 – 400ml Foil – White
Hippo PRO3 – 400ml Foil – Crystal Clear
Hippo PRO3 – 400ml Foil – Black
Hippo PRO3 – 400ml Foil – Anthracite
Hippo PRO2 – 400ml Foil – White
Hippo PRO2 – 400ml Foil – Translucent
Hippo PRO1 – 400ml Foil – White
Hippo Sanitary Silicone – 400ml Foil – Brilliant White
Hippo Sanitary Silicone – 400ml Foil – Translucent
Hippo General Purpose Silicone – 400ml Foil  – White
Hippo General Purpose Silicone – 400ml Foil – Translucent
Hippo Grip It No Nails – 400ml Foil – White
Hippo Flexible Decorators Filler – 400ml Foil – White
Filltite Decorators Caulk – 4 00ml Foil – White
About Tembe DIY and Building Products
Established in 2004, Tembé DIY and Building Products Ltd supply to wholesale and retail outlets throughout Great Britain. From John O' Groats to Lands End (not forgetting the islands) Tembé prides itself on the added value it offers their customers.